If you are using Christmas music in public spaces, commercially, or on social media, you need to ensure you have the proper rights to it.
Christian music can be uplifting and a way for believers to express their faith, praise, and devotion to God. It can be used in worship services, for parties and gatherings, and also for personal listening pleasure. Christian songs can also be useful for social media posts and videos.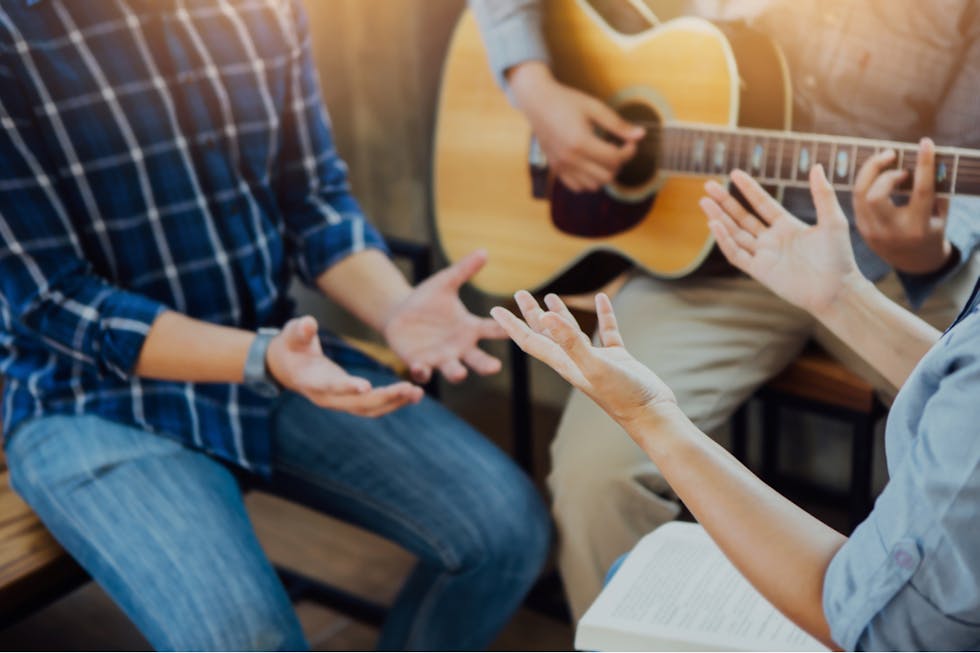 Most Popular Christian Music Songs
Some of the most popular Christian music songs include timeless songs that have been around for decades as well as more recent tracks, many of which have crossed over into the mainstream.
These are some of the most popular Christian music songs:
'In Jesus' Name (God of Possible)' by Katy Nichol
'Amazing Grace' by John Newton
'Take You Back' by Jeremy Camp
'East to West' by Casting Crowns
'El Shaddai' by Amy Grant
'Give Me Your Eyes' by Brandon Heath
'He Reigns' by Newsboys
'My Deliverer' by Rich Mullins
'God Is in Control' by Twila Paris
'From the Inside Out' by Hillsong
'Call My Name' by Third Day
'When I Get to Where I'm Going' by Brad Paisley featuring Dolly Parton
'Jesus, Take the Wheel' by Carrie Underwood
'Shine' by Collective Soul
Christian Hits Playlist
A great Christian hits playlist will include some contemporary options as well as some classics.
These are the top 10 Billboard Christian song year-end chart toppers of 2021:
'You Say' by Lauren Daigle
'Hurricane' by Kanye West
'Good God Almighty' by Crowder
'Battle Belongs' by Phil Wickham
'Hold on to Me' Lauren Daigle
'My Jesus' by Anne Wilson
'Graves Into Gardens' by Elevation Worship featuring Brandon Lake
'Less Like Me' by Zach Williams
'Help Is on the Way (Maybe Midnight)' by TobyMac
'Moon' by Kanye West
Some of the bestselling Christian hits of all time can also be added to this playlist.
'Something in the Water' by Carrie Underwood
'Amazing Grace (My Chains Are Gone)' by Chris Tomlin
'Believe' by Brooks & Dunn
'My Church' by Marin Morris
'Back to God' by Reba McEntire
Praise & Worship Songs
These songs are optimal for worship and praise:
'10,000 Reasons (Bless the Lord)' by Matt Redman
'Forever' by Kari Jobe
'Good Good Father' by Chris Tomlin
'Reckless Love' by Cory Asbury
'Hosanna' by Hillsong Worship
'Good Grace' by Hillsong United
'Jesus at the Center' by Israel & New Breed
'All Hail King Jesus' by Jeremy Riddle
'Father's House' by Cory Asbury
'Break Every Chain' by Tasha Cobbs
'How Great Is Your Love?' by Phil Wickham
'Great Is Thy Faithfulness' by Chris Rice
'Nothing but the Blood' by Jesus Culture
'Behold Him' by Paul Baloche
'Lord I Lift Your Name on High' by Maranatha! Music
'King of Kings' by Travis Cottrell
---
You can use Christian music songs in your videos and for your social media posts as long as you have legal permission to do so.
---
Most commercial songs are copyright protected with not just one but two copyrights. To use them in videos or for social media, you will need both a master use license and a sound recording license. To get this, you have to contact the copyright holder directly — either the artist, composer, music producer, or record label or a combination of these.
You can also use royalty-free and non-copyrighted music legally. Royalty-free music is generally either purchased through a service that obtains the necessary licensing for you — either under a subscription-based model or for a one-time fee, or in some cases you can use this music for free as long as you credit the artist.
Music that is in the public domain, which is music published prior to 1927, is also copyright-free and open for use without special permission.
Where to Download Legal Christian Music for Your Videos
There are multiple service providers and places to download Christian music you can legally use in your videos or for your posts. Here are some examples:
Christian Music Playlists for Individual Listening
There are many Christian songs that work well for easy listening and personal use. Here are some songs to add to your playlist:
'Look Up Child' by Lauren Daigle
'Who You Say I Am – Live' by Hillsong Worship and Brooke Ligertwood
'Shoulders' by For King and Country
'Whatever May Come' by Jeremy Camp and Adrienne Camp
'So Will I (100 Billion X)' by Hillsong UNITED and Benjamin Hastings
'There Was a Jesus' by Zach Williams and Dolly Parton
'Do It Again' by Elevation Worship
'Rescue' by Lauren Daigle
'Battle Belongs' by Phil Wickham
'Fighting for Me' by Riley Clemmons
Christian Music Playlist for Your Service
These are some good songs to add to your playlist for your Christian service:
'Go' by Hillsong UNITED
'As It Is in Heaven' by Matt Maher
'Build Your Kingdom Here' by Rend Collective
'More Like Jesus ­– Live' by Passion and Kristian Stanfill
'On Earth as It Is in Heaven – Live' by Chris McClarney and Kim Walker-Smith
'You Get the Glory' by Jonathan Traylor
'I Will Follow' by Chris Tomlin
'Holy Water' by We the Kingdom
'The Blessing' by Kari Jobe and Cody Carnes
'Oceans (Where Feet May Fail)' by Hillsong UNITED
Christian Music Playlist for Your Party or Gathering
If you're hosting a party or gathering, there are many Christian songs you can add to your playlist to keep the energy up. Here are some good options:
'God's Great Dance Floor' by Chris Tomlin
'Best Friends' by Hillsong Young & Free
'King of Glory ­– Live' by Passion and Kristian Stanfill
'God's Not Dead (Like a Lion)' by Newsboys
'Alive' by Hillsong Young & Free
'Can't Take Away' by Jeremy Camp
'Higher Ground' by Ryan Ellis
'Funky Jesus Music – Live' by TobyMac and Hollyn
'Reach' by Peter Furler
'Born Again' by Newsboys
'The Lost Get Found' by Britt Nichol
'Joy – Matias Ruiz Remix' by Lion of Judah and Matias Ruiz
'Man Up Anthem' by 116, Lecrae, Tedashii, Trip Lee, and KB
'Shackles (Praise You)' by Mary Mary
'Real Love – Live' by Hillsong Young & Free
'Next to Me' by Jordan Feliz
'Love With Your Life' by Hollyn