A video game is an entire experience. Background music and sound effects can help to draw players in and enhance the gameplay.
You can find royalty-free music for video games that doesn't require a copyright, both for free and for purchase. Music is a vital part of video games, and there are a lot of options when it comes to adding this music to your project.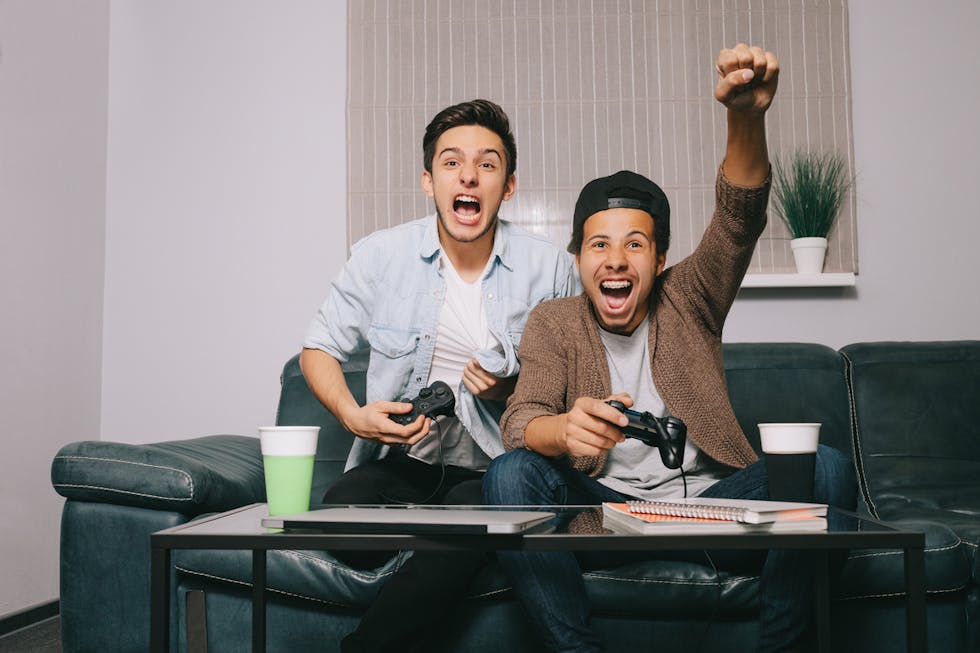 What Types of Music & Sounds Are Needed for Video Games?
Sounds and music are an important aspect within a video game. They help to immerse gamers directly into the world that is created on screen.
Both background music and sound effects are needed for a successful video game.
Sound Effects
In a video game, sound effects are often intended to be realistic renditions of a particular action. For example, if a tree falls on screen, the sound would mimic what a player would expect to hear in real life when this happens. Similarly, if a player swings an ax to fell the tree, the sound should match the action.
There are also sound effects that are more whimsical or cartoonish, such as pinging noises when the player has the character jump.
Background Music
There are three main types of music used in video games: the underscore or extra-diegetic music; source or diegetic music; and music as gameplay.
In the early days of video gaming, music was more limited and relied on sounds created by a programmable sound generator (PSG). This led to the style of video game music called "chiptune." Today, technological advances have led to much more variety in video game music and soundtracks.
Underscore (extra-diegetic music): The underscore is designed to be in the background of a particular scene, title screen, or credits. It is meant to draw out emotions of the player and bring story elements together.

This underscore plays in the background. It can help set the tone and stage for the story and what is happening in the game.
Source music (diegetic music): This type of music works to enhance the realism of the simulated world by playing music a character should hear in the game world. For example, if a set of drums is playing in the game, the player expects to hear this sound. If there is something within the game that creates music, source music is needed to simulate this.
Music as gameplay: When the game involves a player generating music, this is music as gameplay. The game system needs to react to the direct actions of the player. This can include dancing or rhythm action games, and games that involve the player using or simulating use of musical instruments.  
---
Royalty-free music does not require a copyright.
---
Licensing is covered through the service you obtain the music from. Many of these include subscription-based services that allow you to pay a monthly fee for access and use of the music. You can also download specific tracks and sounds, often for a fee for commercial use.
Here are some examples:
Best Websites for Free Music for Video Games
There are also a number of websites that offer royalty-free music for free as long as you credit the composer or musician. Here are some examples:
Why Music in Video Games Matters
Music in video games is often designed to build tension. This can be used when a character is facing a villain and resolved when the player succeeds in vanquishing it. This can create a sense of euphoria in the player for completing the task.
Music in video games, therefore, is designed to elicit an emotional response from the player and keep them engaged in the digital world of the game. Music can build suspense, let a player know that something is happening off the immediate stage, and help to set the tone while developing characters.
Music is an important part of the video game realm.
Where Does Copyright Fit In?
If you want to use a popular song that is copyrighted, you need to obtain a license to do so. This often involves contacting the music producer or record label directly. You will need to then submit a request detailing your intent for the music and that it will be used for commercial purposes.
There will be fees associated with using copyrighted music. Often, licenses expire, and you'll need to continue to update them.
What If I Want to Use a Famous Song in My Video Game?
You will need both a master use license and a sync license to use a famous song in your video game. You need permission and approval from the creator of the music to use it commercially.
Songs typically have more than one copyright, and you will need them both to use the song legally. The sync license allows you to use the musical composition, while the master use license grants permission to use the actual sound recording of the original artist.
Music rights organizations, record labels, and music publishers can sell you the license to use their copyrighted music. You will need to find out who owns the rights to the music you want to use and contact them for permission.