Audiobooks may not have traditionally contained music or anything other than a narrator, but it is becoming increasingly common to add background music. This can help to set the mood and tone of the book and better engage readers.
Music for audiobooks can be a great tool to enhance the story.
Why Background Music in Audiobooks Matters
Using music in audiobooks can help you to create a unique product and really draw a reader in. Music can influence a reader's emotions and mood, helping to set up the characters, plot, and tone of the book.
Using famous actors to narrate audiobooks is a common practice. By adding in sound effects and background music, you can really make the story into a kind of movie that plays out in the minds of the readers.
Adding music and sounds to an audiobook can do the following:
Set the pace.
Support the cultural significance.
Help manage transitions.
Amplify the level of intensity and mood.
Enhance feelings.
Types of Music & Sounds Used in Audiobooks
Music can be used in the background during the opening and closing credits of an audiobook and also in between chapters for transition. It should be background music and not take away from the story.
Sound effects can help to tell the story. However, they shouldn't be jarring to the reader or take away from the narration.
A variety of different types of music and sound effects can be used, and they will be based on the type of mood and tone you are trying to set. This often will depend on the genre of the book as well.
What License Do I Need?
You will need two different licenses for using music in an audiobook — both for the musical composition and the sound recording.
---
Whether your music is created directly for your audiobook or was pre-recorded, this music will be copyrighted. That means you must obtain these licenses to use it.
---
For the musical composition, you will need a "sync" or synchronization license from the music publisher. This often requires that you contact the publisher of the music directly and request the license. You will need to inform them that this is for commercial purposes and outline the specifics of your project and how the music will be used.
The sound recording copyright is often owned by the record producer or record company. You will need a master-use license to obtain the rights to use the sound. As with the sync license, you will need to submit a request to the holder of the sound recording copyright with the details of your audiobook project and how you intend to use the sound in order to get permission to use it.
You can get royalty-free or public domain music for audiobooks without going through this process. Stock music websites contain music that you can purchase for this purpose — just be sure that the license includes use in an audiobook before buying it..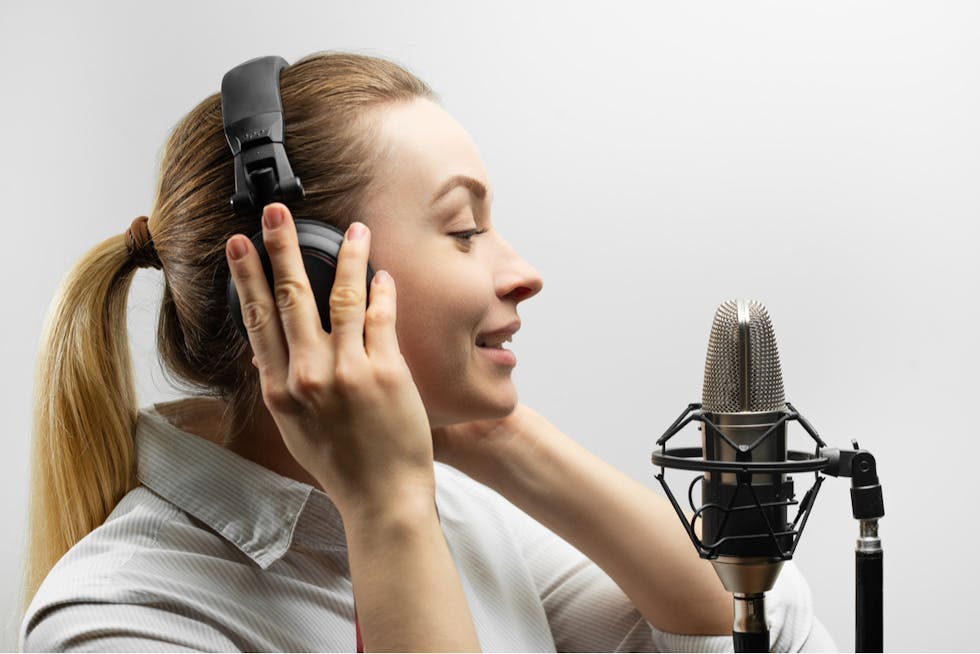 Where to Purchase Music for Audiobooks
Royalty-free music does not require that you pay royalties for each use. Generally, it will only cost you a one-time fee to use it universally. Royalty-free music can also save you from potential copyright infringements.
There are several subscription-based services where you can get royalty-free music. Typically, you pay a fee each month, often between $15 and $20 per month, and then you have access to the entire music catalog that you can then use how you wish.
Some options allow you to buy just the track you want for a one-time fee. Be sure you are buying the track for commercial purposes.
These are some of the most popular options for royalty-free music:
Where to Download Free Music for Audiobooks
There are also options for downloading royalty-free music for free to use in your audiobook. Most of these webpages are owned by musicians who have composed their own work. Generally, you will merely need to credit the music composer in order to use the music for free.
Here are some options:
How to Choose the Right Music for My Audiobooks
When deciding on which music to use in your audiobooks, you will need to consider what you are trying to accomplish. Music can help to set the mood, tone, and get the readers to feel a certain way, but it should not take away from the story or book itself.
Choose music that complements your story and helps to enhance it. This also means using music in the background during transitions and breaks, not while the narrator is talking. Sound effects should not be sudden or jar the reader, which can be distracting and take away from the focus and story.
Music and sound effects can help to give your audiobook a cinematic feel and effect. The music should be subtle and flow with your storyline, working together with the complete project.
Ambient pieces are often optimal. These can be used during transitions to keep things moving.
Music for your audiobook is often determined by the genre of the book, as it can help to set the pace for the reader. Overall, background music in an audiobook can guide the reader through the story and help them to become even more involved with the characters and plot.