Music can be influential at any age, and it can be especially beneficial for older adults. 
Music can positively impact moods and behaviors and also improve memory and cognitive functions. Music played in senior living communities can help to alleviate anxiety, elicit positive memories and emotions, and have a soothing effect. 
Different types of senior living homes can have variable requirements when it comes to music, so the type of music can vary. For example, there will be different areas where music is played for different functions. 
There is no doubt that music is important in senior living communities.
Types of Senior Living Homes Which Could Use Music
There are three main types of senior living communities, all of which can benefit from music. These are the main types:
Independent: Often in the form of apartment complexes, condos, or sprawling "neighborhoods," independent senior living communities are places where seniors do not require personal assistance or on-site medical care. Most residents are looking for an environment where they can live around other seniors with similar interests.

Independent senior living communities can use music played in common areas, such as pools, exercise studios, community centers, restaurants, lobby or reception areas, and religious worship facilities. Health care is often off site, and residents will control their own personal living environment.
Assisted: There are a wide variety of concepts for assisted communities, ranging from family-type homes to assisted living facilities, adult home campuses, and enriched housing facilities. Residents will require some form of personal assistance or medical care.

These senior living environments can be contained in one building or more than one. Multiple buildings are typically close together and separated by a walkway or a short walk.

Music can be played to benefit the residents and staff members in the lobby, common areas (such as hallways), administrative offices, community room, game room, pool, exercise area, physical therapy rooms, dining hall/cafeteria, worship facilities, library, and basic health or medical treatment areas.
Skilled/intensive: This type of senior living community includes nursing homes, convalescent hospitals, and rehabilitation centers. These residents will require some level of constant assistance or monitoring and are unable to live independently.

Music can often help to soothe the high tension that can arise in these environments. It can be played in mental health and memory care units, administration offices, the lobby, common areas and hallways, community and activity rooms, intensive care units, physical therapy rooms and gyms, the library, the game room, worship facilities, and the dining hall/cafeteria.
There is also a fourth type of facility, a combination type, that can have multiple different levels of care on a single campus. In these environments, music will often need to be varied based on the zones and tailored to fit the level and specific area it will be played in.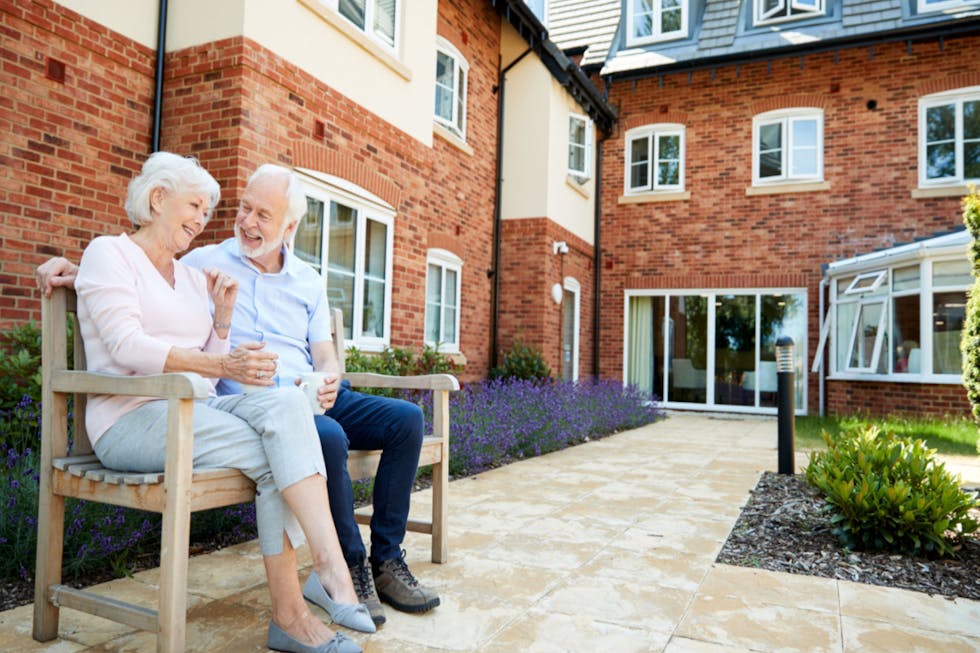 The Best Types of Music & Playlists
Music is closely tied to emotions. Specific songs or types of music can bring up fond memories while enhancing memory and thought processes. 
The type of music played in senior living homes depends on where in the community it is being played. Music played in a gym or exercise area is bound to be more upbeat, for example, while music in a library might consist of more soothing nature sounds or rhythms. 
Music in the lobby and hallways can often consist of peaceful ambient instrumentals in the background, while music played in the community and activity rooms will often be louder and more in the forefront.
Seniors can often benefit from music that is nostalgic for them. Playlists can be based on the average age of the residents to engender a positive response. 
Here are some examples of tailored playlists:
Playlist for Seniors 60+
'Good Vibrations' by The Beach Boys
'The Twist' by Chubby Checker
'Born to Be Wild' by Steppenwolf
'The Sounds of Silence' by Simon & Garfunkel
'I Want to Hold Your Hand' by the Beatles
'Piece of My Heart' by Janis Joplin
'Sugar, Sugar' by The Archies
'Wonderful World' by Louis Armstrong
 'Tossin and Turnin' by Bobby Lewis
 'Respect' by Aretha Franklin
 'My Girl' by The Temptations
 'You Really Got Me' by The Kinks
 'Love Me Do' by the Beatles
 'Sweet Caroline' by Neil Diamond
 'Someone to Love' by Jefferson Airplane
 'Baby Love' by the Supremes
 'Oh, Pretty Woman' by Roy Orbison
'(I Can't Get No) Satisfaction' by the Rolling Stones
 'My Generation' by The Who
'Mrs. Robinson' by Simon & Garfunkel
Playlist for Seniors 70+
'Hound Dog' by Elvis Presley
'The Great Pretender' by The Platters
'All I Have to Do Is Dream' by The Everly Brothers
'All Shook Up' by Elvis Presley
'Love Letters in Sand' by Pat Boone
'Because of You' by Tony Bennett
 'Young Love' by Sonny James
 'Autumn Leaves' by Roger Williams
 'Chances Are' by Johnny Mathis
 'Heartbreak Hotel' by Elvis Presley
 'Be My Love' by Mario Lanza
 'Little Stars' by The Elegants
 'You Send Me' by Sam Cooke
 'Diana' by Paul Anka
 'Goodnight Irene' by Gordon Jenkins and The Weavers
 'Little Things Mean a Lot' by Kitty Kallen
 'Mona Lisa' by Nat King Cole
 'You're Nobody Until Somebody Loves You' by Dean Martin
 'Love and Marriage' by Frank Sinatra
 'September Song' by Sammy Davis Jr.
Playlist for Seniors 80+
'Only Forever' by Bing Crosby
'We Three' by The Ink Spots
'If I Had My Way' by Kate Smith
'Oh! What a Beautiful Mornin' by Bing Crosby and Trudy Erwin
'Boogie Woogie Bugle Boy' by The Andrews Sisters
'To Each His Own' by Eddy Howard
'Till the End of Time' by Perry Como
'It's Magic' by Doris Day
 'I'm Beginning to See the Light' by Kitty Kallen and Harry James
 'Shoo-Shoo Baby' by The Andrews Sisters
 'You Are My Sunshine' by Jimmie Davis
 'In the Mood' by Glenn Miller
 'Chickery Chick' by Sammy Kaye
 'Lovesick Blues' by Hank Williams
 'Some Enchanted Evening' by Ezio Pinza
 'Unforgettable' by Nat King Cole
 'The Way You Look Tonight' by Tony Bennett
  'Tennessee Waltz' by Patti Page
  'Lady Sings the Blues' by Dinah Shore
  'Sentimental Journey' by Doris Day
Playlist for Seniors 90+
'Cheek to Cheek' by Fred Astaire
 'Strange Fruit' by Billie Holiday
'Night & Day' by Fred Astaire
'All of Me' by Louis Armstrong
 'Jeepers Creeper' by Al Donahue and Orchestra
 'Stardust' by Isham Jones
 'Georgia on My Mind' by Hoagy Carmichael
 'Puttin' on the Ritz' by Harry Richman
 'Easy to Love' by Billie Holiday
 'I'm in the Mood for Love' by Frances Langford
 'Please' by Bing Crosby
 'Embraceable You' by Red Nichols
 'Happy Days Are Here Again' by Ben Selvin
 'Three Little Words' by Duke Ellington
 'On the Sunny Side of the Street' by Ted Lewis and Band
 'Over the Rainbow' by Judy Garland
 'Body and Soul' Annette Hanshaw
 'In the Mood' by Glenn Miller
 'I Got Rhythm' by Ethel Waters
 'Please' by Bing Crosby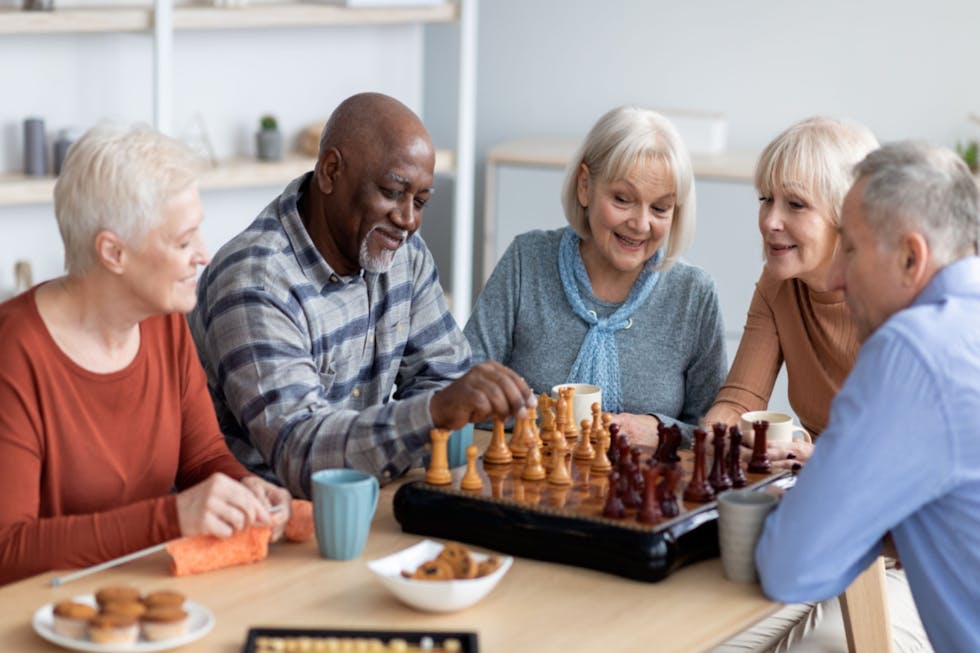 Research Around Music Being Beneficial for Seniors
There has been a lot of research and studies showing that music is good for the brain. It can enhance natural pathways to pleasure and elicit a wide range of emotions. 
Studies have also been done to show the benefits of music on the aging brain. Music can be a way to exercise your brain, much in the same way that going to the gym works out your body. 
Music stimulates the brain. Keeping your brain engaged with music during the aging process can provide a host of benefits, including these:
Lower blood pressure
Reduced anxiety
Improved quality of sleep
Lesser perception of pain
Enhanced mood
Improved memory
Increased mental alertness
Studies have shown that music played in the background can enhance memory and cognitive abilities in seniors. Hearing specific music can also trigger memories, and music can bring up positive associations with a past time or event. 
Music can help with mental processing speed and mental clarity. Even in the case of advanced dementia, the response to music can be remembered, as it is often ingrained deep in the brain earlier in life before the onset of dementia. 
Music can be soothing for virtually everyone. It can help to ease tension and improve the moods of both seniors and staff in senior living communities.