When searching for a legal solution for your company's background business music and audio advertising, it is important to keep your business needs in mind. Many of the top commercial streaming music services give you commercial licenses to stream a wide range of music through your phone, tablet, or through hardware that the music licensing company provides, but that doesn't mean you have time to be hands-on with apps and playlist schedules.
How do you decide which option will work best for you? Here is a comparison of three other leading business-focused music streaming companies – Rockbot, Jukeboxy, and Custom Channels – to help you make the best decision for your business.
We'll go deep into each but for a quick comparison check out this table:
| Service | Price | Best For | Pros | Cons |
| --- | --- | --- | --- | --- |
| Rockbot | From $24.95 per month | Music-lovers who want control over their business background music | Largest selection of licensed music, smart algorithm, custom playlists, optional advertising | Customers may engage more with music than products |
| Jukeboxy | From $29.99 per month | Project managers who enjoy scheduling and controlling playlists | Three separate mobile apps, customizable playlists, in-store messaging, large library | May require significant time investment for music management |
| Custom Channels | From $35 per month | Investors wanting a specialized team and custom playlists | Three tiers of service, compatibility with existing sound systems, works with Sonos products | Pricier for customization |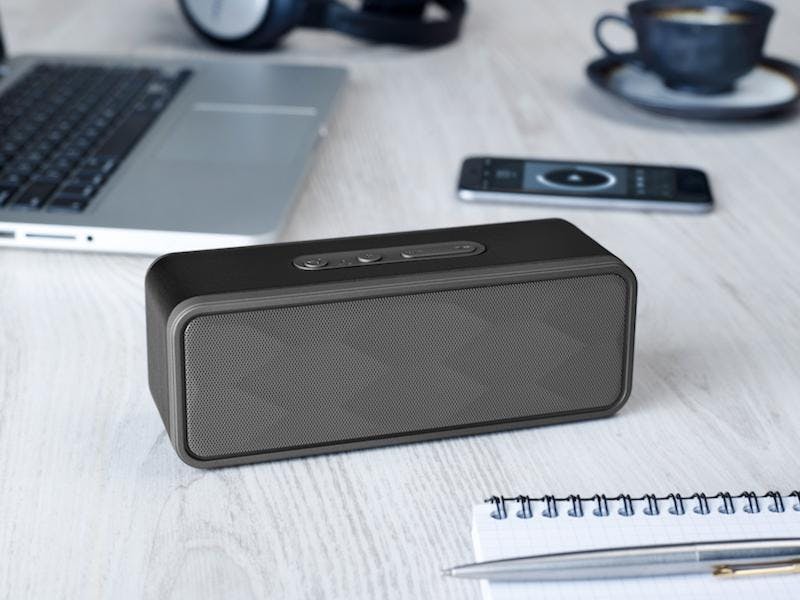 Price: The company offers a free one-week demo that does not require you to put in a credit card to sign up. After the trial, Rockbot Music costs $24.95 per month, and Rockbot Request costs $49 per month. Rockbot Enterprise is customized, so you must call the company for a quote.
---
Who Rockbot is best for: Music-lovers who want to spend a lot of their attention on which songs play in the background of their business each day.

---
Founded in 2009, Rockbot was the first company to create a dynamic music streaming service for businesses of all sizes and types. The focus of the company is on providing background music for businesses where the establishment's atmosphere is crucial to the customer experience.
The basic Rockbot Music product allows you, the business owner or manager, to control music played in your business. However, the company also offers a program called Rockbot Request, which is an interactive music player. Rockbot still manages the commercial licensing of songs, and you (the owner or manager) create a playlist. However, your patrons then request songs off that playlist to be played. They can upvote songs and share their experience with Rockbot Request in your business through social media. You can even share the Rockbot Request display on TVs in your business so your guests can see what's happening.
Because Rockbot Enterprise is a powerful combination of streaming and hardware, offering a dashboard with real-time visibility, control across multiple locations, and the ability to standardize settings and playlists by region, branch, or franchise, you will receive a dedicated Rockbot brand account manager to assist you and five-minute install per location.
Pros: Rockbot's website states that the company provides the largest selection of licensed, commercial-free, streaming music for businesses by working with the major performing rights organizations (PROs). They report licensing 16 million songs – more than Pandora for Business at 1 million songs and Mood, which bought Muzak and licenses 3 million songs.
The program's algorithm updates automatically so it is unobtrusive, gets smarter about your music preferences over time, and does not repeat songs very often. You can choose from predetermined moods or business styles, like Restaurant or College. You can also import your personal playlists from iTunes and Spotify, and Rockbot will play all the songs it has available on those lists.
To optimize the music streaming, Rockbot has made a Media Player with the ability to turn on and off at specific times, that provides interruption-free music even in the absence of an internet connection, and that uses very little bandwidth.
If you wish to purchase advertising with Rockbot, you can do that as well.
Cons: Customers may engage with your music more than your products. The Rockbot App lets your customers see the music playing and request songs from your pre-approved library. With growing research on how background music can influence shoppers' actions, you may want your customers to put down their phone and just enjoy the music.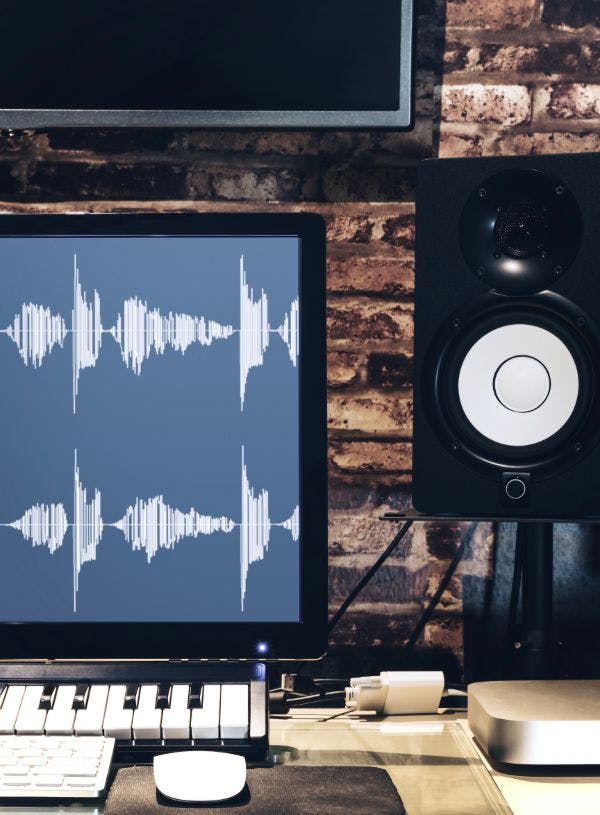 Price: Jukeboxy has a 14-Day free trial, with no credit card required to sign up and no obligation to purchase when the trial ends. After that, Jukeboxy Business starts at $29.99 per month. All three of their apps are included, and there are no separate program options.
---
Who Jukeboxy is best for: Project Manager-types who love apps and want to spend a lot of time on their mobile, tablet, PC, or MAC to trigger an hourly/daily/weekly schedule of appropriate playlists and in-store audio messages.

---
If you need to speak to your customers – for example, if you have an upcoming sale or promotional event – Jukeboxy lets you upload unlimited audio messages to Jukeboxy, which will be played between songs like radio advertising.
Jukeboxy's apps can be used across mobile phones, tablets, PCs, and Apple products. Setup takes only 10 minutes, and the app can be offered to an unlimited number of your organization's managers across the United States. The software comes with its own hardware to optimize sound quality, but you can use your own devices.
Pros: Unlike their competitors, Jukeboxy prides itself in managing three separate mobile apps: the music streaming app, the weekly scheduling app, and an in-store messaging option so you can speak directly to your customers.
---
Jukeboxy's scheduling app bases playlists on the type of business you run and what your operating hours are.
The manager app allows you to see what music is currently being played in your business, even remotely. You can pick new playlists, choose a default schedule, create custom playlists, or choose from Jukeboxy's presets.
Like many other streaming services for business, Jukeboxy contracts with the major PROs and many indie labels not represented through large organizations to provide a huge library of commercially licensed music. They boast 25 million songs in nearly every genre.
Jukeboxy works with businesses in several industries, including:
Hotels
Spas
Coffee shops
Restaurants
Grocery stores
Retail shops
Cons: Jukeboxy may have you focused on the songs you choose for your business instead of business itself. There are several components you have access to when you sign up with Jukeboxy. While the company's large library starts with curated playlists, which can save you time, you are encouraged to create your own custom playlists and schedule hundreds of in-store audio messages that might be better served on the other marketing channels you invest in.
Price: Both All Access and Remix offer free seven-day trials; Ethos is customized, so Custom Channels must be contacted for pricing. Ethos starts at $50 per month; Remix is $40 per month; and All Access costs $35 per month. They do not require a long-term contract, and you can get a refund within 45 days if you are unhappy with their service.
---
Who Custom Channels is best for: The Big Spender who is ready to invest in a third tier of service in order to have a specialized team, customized playlists, music players, custom messaging, and further support as you grow your business.

---
Pros: Custom Channels is a music streaming service focused on the unique needs of brands that are conscious of the impact music has on their customers. They work with various types of business:
Hotels and resorts
Hair salons
Coffee shops
Restaurants
Retail stores
Health care and medical care offices
Dentists
Spas
Custom Channels also has three tiers of service:
All Access: Millions of fully licensed songs are available in curated playlists they call music channels. These are continuously updated with new music as the company works with more PROs. These channels are created for you, with no interruptions from advertising and no concern about uncensored explicit language. The All Access program works with Sonos products for high sound quality.
Remix: You have access to Custom Channel's library of commercially licensed music, which you can use to create your own playlist. You can adjust how the styles are mixed, add new songs, and remove songs you're tired of. The dashboard is available online, so you can work on your customized playlists from anywhere. You can also add your own messaging, so you can advertise upcoming promotions or events at your business, and your personalized messaging will be the only interruption in the music.
Ethos: This premium offering from Custom Channels gives you access to a specialized team who will work with you to customize your playlists. The music experts at Custom Channels are like auditory interior designers. Unlike the other options, Ethos comes with music players, custom messaging, and the ability to add new zones for your franchises or storefronts as you grow.
All three of these services will work with whatever sound system you currently have in your business, or you can purchase the Custom Channels player. The company works well with Sonos, so if you prefer to use their hardware, Custom Channels will sound incredible.
Cons: Custom Channels can be pricier than its competitors if you're looking to customize. Still, their music and audio tracks help you connect to your customers on a deeper level, and Custom Channels offers easy-to-use solutions. Because the company's focus has long been business or commercial environments, they do offer high-quality digital sound with no fluctuations, distortions, or changes in volume between songs.
All three of these streaming services provide high-quality, professional, digital music with full commercial licensing, so you as a business owner or manager will not face legal repercussions. Rockbot provides a wide range of services, both personal and commercial, all of which are highly customizable. Jukeboxy offers three apps rolled into one complete service, including hardware, with fewer options. Custom Channels offers less ability to customize at lower service levels, but less worry about the quality of content. While it may seem that any streaming solution will do, or perhaps the least expensive solution is the best, ultimately you must consider all of your business's needs.
Your business's bottom line should not be the only determining factor when choosing a music streaming service. If you get a product you work well with, your employees work well with, and that makes your customers happy, then you've found the perfect service for you.
---
While there are many commercial music streaming services that now offer free trials and easy access to the music your customers love, Cloud Cover Music prides itself on their customer service, providing operational IT & guidance to customers while helping them achieve branding consistency. Learn more by chatting with them or giving them a call at (844) 422-6249.

---