What is Muzak? Muzak has become part of American slang, referencing for several decades now the soothing music played softly in elevators around the nation.
Although Muzak has long been associated with dull or mildly annoying instrumental tracks, the inventor and founder of the company had always intended to create background music that improved the mood of customers and employees in retail and office settings. Today, the original Muzak company that is owned by Mood, an audio service that purchased it in 2011, is now just one modern option for providing background music for business settings. While the history of the Muzak company is long and impressive, the concept that music impacts psychology is universal and, in the past decade, has been taken up by a few modern music services that might be right for your business.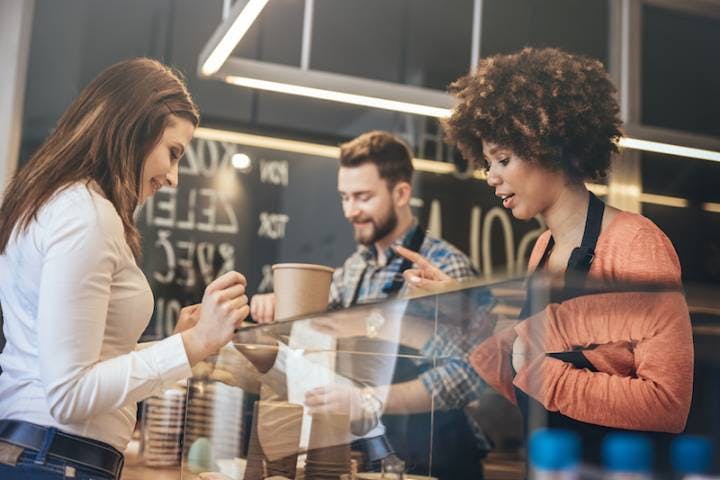 The Early History of Background Music
Muzak – both the company and the wired wireless method for piping music into spaces – first appeared in the 1920s as a music "utility" on subscribers' electricity bills. Created in New York in 1922 by George Owen Squier, the idea for Muzak songs first came about when Squier was tinkering with technology and different modes of transmission as a major general in the United States Army's signal corps. This led him to create a wireless music transmission service that supplied subscribers with their own gramophone, capable of picking up music he specifically beamed to their frequency. By the time Squier's gramophone technology matured, however, home radios had become inexpensive and prevalent, better allowing customers to listen to free broadcasts of music, news, and audio dramas.
In 1934, after a few years of calling his service Wired Radio, Squier officially named his company Muzak. The new name was partly a play on Kodak, the popular film and camera company of that time. After some reorganization, the company focused its sights on commercial clients, such as offices, restaurants, and retail spaces. Muzak sent its first broadcasts to clients in 1936, and the following year the company was purchased by Warner Brothers, who then sold Muzak after World War II.
Shifting Focus: From Streaming Technology to Music Psychology
During the 1940s, companies not only wanted their employees to be more productive but also hoped to see their customers spend more money in-store. Thus, this idea that music could influence a shopper's mood or even make them feel happy, linger in the shop, and eventually purchase more items because they felt good, became a core part of Muzak's identity. In the early 1940s, Muzak's team began to focus more on the psychology of music in commercial spaces than on the technology that got it there. This led to the company patenting the term "stimulus progression," an approach to music programming designed to make office workers more productive. The strategy was to make instrumental music ramp up in speed and intensity in 15-minute intervals, going from easy listening to slightly more intense.
At the same time, the company exercised a profound influence on pop music trends, as many people purchased albums of the company's music and played them at home. With the concept of "stimulus progression" remaining a core part of Muzak's philosophy until the 1990s, Muzak also thrived on creating background music for many settings, triggering specific emotions in movie viewers or different types of listeners at certain key points. Even the astronauts on the Apollo 11 Mission listened to Muzak to calm themselves down.
With Muzak offering the most calming and trusted instrumental options available at the time, many businesses turned to the psychology-driven brand, inextricably tying the brand name to background music for small spaces. Indeed, while the company's music has been played in thousands of settings all over the world for decades, the brand name's strong association with elevator music is perhaps the most obvious signal of its success in businesses. Elevator or hold Muzak music was designed to calm people who became nervous in elevators, and as more elevators were added to larger department stores, the music service was able to make its mark in retail and office spaces.
How the Curated Playlist Changed Music Business
A major ideological competitor arose in the 1990s. A Seattle-based company named Yesco began creating curated playlists of top pop songs with lyrics that were intended as foreground music, an intentional jab at Muzak's pervasive background music.
While the company's unpopularity had been rising since the 1960s, Muzak offered a specific set of sounds that businesses could rely on. The landscape began to change with Yesco — not just because their philosophy was different, but because the company used famous songs or genre-specific music, like grunge, pop, rap, and country.
To compete with the curated playlists and licensing provided by Yesco, Muzak reorganized again, this time creating teams of "audio architects" who created "atmospherics" for business clients. These atmospherics were custom-built sound landscapes using the music that Muzak already owned.
These were not merely playlists but ways for a company to set itself apart from surrounding businesses. The soundscapes in the business would be associated specifically with that business. If a customer happened to hear that "Muzak" anywhere else, they would be reminded of the original brand.
Unfortunately, the pseudoscientific approach to customized business tunes could not last forever. Muzak acquired Yesco, but then Muzak itself filed for bankruptcy in 2009.
Muzak's Soundscape Tradition Continues
While the company Mood bought the elevator music giants in 2011 and phased out the term Muzak, the philosophy of creating soundscapes for business customers continues to drive its operations.
Today, companies everywhere understand and strive to capitalize on the ways music, including restaurant Muzak, mall music Muzak, and Muzak environmental music, affects our mood and emotions throughout the day. Creating a musical landscape that your customers will love, and will associate with your brand for years, improves brand loyalty.
Mood now also explores how sight solutions, scent-based solutions, integrated social media strategies, and even hardware solutions can help improve the consumer experience of commercial establishments.
Though almost all of the modern options for businesses today exhibit a keen understanding of how music influences consumer habits, it is important to find a music streaming provider that protects you from in-store music laws, all of which have strict policies on what exactly businesses can and cannot play for their customers.
Cloud Cover Music, one of the leading enterprise-level music streaming providers, was founded on the idea that listening to the right music at the right time can boost the desired ambiance and motivate positive customer interactions.
The Internet's Impact on Copyright Law & the Music Industry: 1990s to 2010
With more reliable internet connections, mobile devices and apps, and higher quality digital music, music streaming services have virtually replaced CDs, tapes, and even traditional radio stations. The popularity of these services stems from easy access to digital music in the form of MP3s, starting with illegal downloads through Napster and moving to Apple Music, originally iTunes.
The music industry struggled in the late 1990s and early 2000s to contain illegal downloads and file sharing. In 2001, Napster was forced to shut down after facing major lawsuits involving copyright and file share violations. However, the online demand for easy-to-access music remained, eventually being captured by Apple and Microsoft who made dedicated, subscription MP3 downloading services and associated MP3 players.
Apple launched iTunes in 2003. This music library managed copyright licenses with specific recording companies and performing rights organizations (PRO), charging less than $1 per song to download and listen to the music privately. Apple linked iTunes with its first few generations of iPods and then to its other devices. Now, the software is available to play music on any computer or mobile device.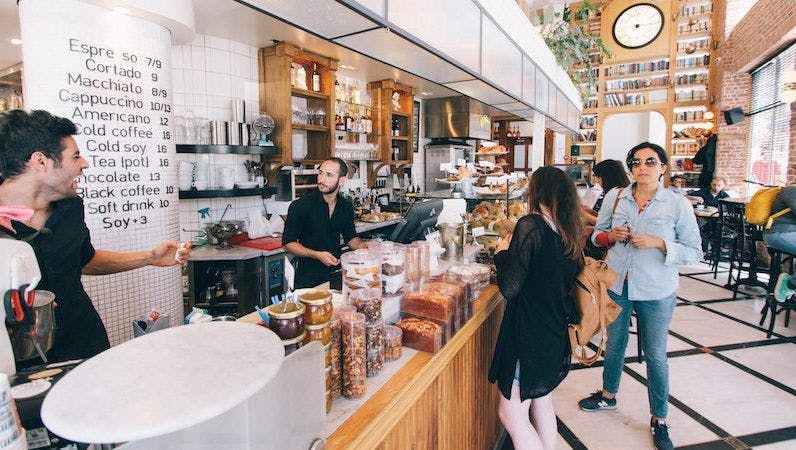 Intellectual Property, Music & Streaming in the 21st Century
Apple proved that the millions of people who downloaded free MP3s would be willing to pay for their music as long as the price was reasonable. As smartphone and mobile device technology improved even more, companies developed streaming services, including these:
Pandora
Spotify
SoundCloud
Sirius XM
Apple Music
Slacker Radio
Digital Music on Amazon
Band Camp
Even video services like YouTube and Twitch are sometimes used by content creators and viewers for streaming music, not just for videos.
As more users download streaming services and listen to ads or pay for ad-free music, more and more people get used to the presence of this technology. You may assume your personal access through an inexpensive digital music subscription service translates into universal use. But, just like you could not play your personal CDs in your store, you cannot play your personal playlists from Spotify or Pandora in your business.
If you are a business owner and you play your streaming playlist or station in your store, you are breaking copyright law. Unless you purchase music licenses from a PRO or choose a business-focused music streaming company like Cloud Cover Music, as mentioned above, your business remains at risk.
Streaming Music in Your Business Today
Business-focused music streaming companies manage licenses from performance rights organizations (PROs), which organize catalogues of music with the artists or copyright holders. PROs ensure that artists, composers, and performers receive royalties for their work. However, much of their business is done through blanket licenses that cover specific uses of the organization's entire catalogue.
Some of these streaming companies include:
Soundtrack Your Brand
Sirius XM for Business
RockBot
Sound Machine
Sonos
SoundSuit
Many of these companies offer customized and curated playlists of new, trendy, popular, and classic music. However, few offer the option of getting music composed just for your brand. Enter Mood, a new brand combining options with both Muzak and Pandora.
Muzak for Enterprise
Mood, formerly Muzak, is just one company that currently uses digital and streaming technology, along with the option of their trademarked hardware, to provide businesses with a full complement of office or retail solutions and playlists. They have a music streaming service geared toward the ideal background music for small businesses, called Mood Mix, which uses their specific catalogue of calming songs to enhance customers' experience.
Mood integrated with Pandora Radio to create custom soundtrack solutions for businesses. The Muzak side of Mood creates original soundscapes composed specifically for businesses. Pandora for Business, in contrast, operates much like personal-level Pandora Radio, playing popular and new music that your customers love.
If you are a small company looking to grow or an enterprise-level business, Cloud Cover Music is the recommended legal solution for background music and audio advertising. With thousands of locations in the U.S. and Canada playing Cloud Cover Music, we seamlessly manage the operational, IT, and legal challenges related to installing and operating a music service for companies that simply want to focus on their brand and customers who come to know it.
Frequently Asked Questions
Does Muzak still exist?
Technically, the company Muzak no longer exists. It was purchased by Mood Media in 2011. However, Muzak's changes from soothing, instrumental background tracks to customized soundscapes live on, so the legacy of Muzak continues to influence branded sounds.
What is the meaning of MUZAK?
Muzak is a brand name developed in the 1920s, devoted to creating unobtrusive but compelling continuous background music for public spaces like airports, department stores, and waiting rooms. In countries like the United Kingdom, it is synonymous with piped music or elevator music.
Why do they call it Muzak?
The word "Muzak" is a play on "music," inspired by popular brand names at the time of the company's development, particularly Kodak. Muzak's mission was to create soothing, inspiring background music that customers or employees would barely notice, but would keep them going throughout the day. However, the company soon became reviled as they were associated with large businesses and hold music — and, even more specifically, elevators.