SiriusXM has offered satellite and digital radio for years, including exclusive channels for talk radio hosts and streaming music without ads. Not only has SiriusXM offered high-quality radio options for individual listeners, but the company also provides safety and security support for emergency responders, stolen vehicle recovery assistance, roadside assistance, weather updates, and traffic advisories.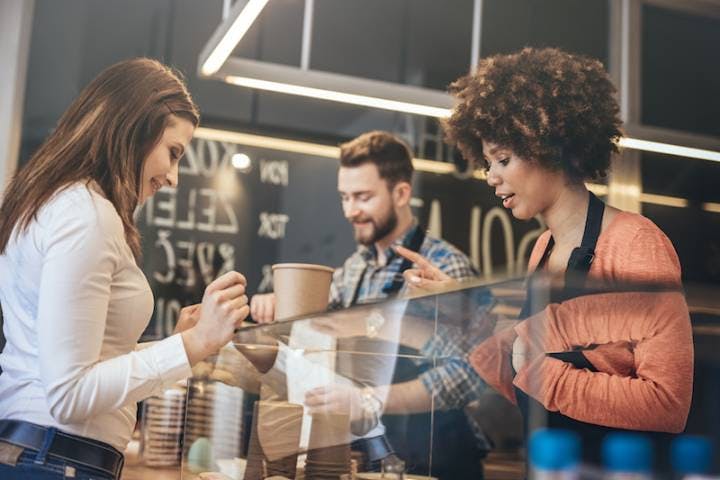 SiriusXM Music for Business: Streaming Radio Licensed for Your Company
Because SiriusXM has such extensive experience working with different platforms, it makes sense that they provide an essential service for your business too. As a business owner, you can have access to the massive SiriusXM Music for Business catalogue of stations, ranging from sports to news to the latest hit songs. Everything is covered by the right business licenses, so you never have to worry about a performing rights organization (PRO) sending you a cease and desist letter.
SiriusXM Music for Business offers you great options like:
More than 100 business-friendly channels, including over 30 channels that have no commercials or DJs interrupting the songs.
The choice of streaming online or satellite stations.
Special hardware that is set up to stream music instead of using your computer or smartphone.
An easy-to-use interface to manage your stations.
Their partnership with Sonos, which allows you to use industry-leading speakers for the best possible sound.
Radio stations that are based on genre of music, the type of business you run, and the mood you want your customers to experience.
The basic SiriusXM Music for Business offers a lot of great options for your storefront, but as you expand and begin to franchise, you may need additional support. Franchise options include:
Central control of several streaming players through a web portal.
Customized music and messaging.
Packages for sound systems along with professional installation.
Restricted employee access to radio features and channels.
A custom website for ordering services and products from SiriusXM.
Although SiriusXM Music for Business takes a lot of the guesswork out of streaming tunes for your customers, it may not be the best fit for your specific enterprise needs. Other companies offer similar options for less money, and some were created specifically to work with streaming music for businesses. You can sometimes get a more personal touch and better branding when a smaller company is focused on your store's needs.
Leading Competitors for SiriusXM Offer More Personalized Touches
Some of the leading competitors for Sirius XM Music for Business offer more customized offerings. Depending on your organization's specific needs, these top alternatives might work better. Some of them are available at a cheaper price point.
Jukeboxy: This music for business service offers a 14-Day free trial, so you can get used to their simple user interface and music catalogue before you decide if it's right for you. Their platform works across mobile options like tablets and smartphones, including Amazon Fires, Androids, and iPads. Jukeboxy can also work on both Apple and PC products.

There are more than 40 million songs available through major performing rights organizations, channeled into hundreds of playlists for you to choose from. You can even get the Jukeboxy dedicated hardware, for seamlessly beautiful sound as music streams from the cloud into your store.

There are many types of playlists based on the business you run, including playlists that are ideal for waiting rooms, spas, restaurants, and hotel lobbies. You can schedule these playlists by the hour, day, and even week. You can then alter or change these options through the web portal on the fly as well. If you want in-store messaging, you can upload your own recordings and play them in your playlists, with full control over their frequency.

As a smaller company than SiriusXM, Jukeboxy may offer more hands-on support. The company takes pride in their customer service and support offerings.


Soundsuit: This new company uses an algorithm much like Pandora to create great playlists for your business. Start by setting up your business profile, which includes information like what type of business you run, your target listening audience, and the mood or atmosphere you want to create with the tunes.

Listen to the playlists, and the algorithm learns when you skip a song, so it homes in on your musical preferences and builds the best possible library for your company. It can even pick up on the right mood to generate during what time of day based on those preferences. Before you know it, your store will have the perfect atmosphere to communicate your brand to your shoppers.

Soundsuit is a great option for people who want good music that suits their style and organization without the effort of managing playlists all the time, juggling when to play what tracks, or trying to figure out how to adjust the mood of the place of business throughout the week.


Sound Machine: Another smaller company, Sound Machine offers tailored playlists by genre, interest, mood, and more. The company combines several approaches to helping you play music in your store. There are playlists that are hand-created by music curators rather than generated by an algorithm. You can also import your existing playlists from personal streaming services like Spotify, Amazon, Apple Music, Napster, and many more.

Since you know your business's image the best, you can start with those established playlists and convert them to your business needs through Sound Machine. If you know the general sound you want, you can use Sound Machine's A.I. algorithm to create new playlists for you, just like you would with Pandora or Soundsuit.

You can combine playlists for the perfect sound, program in-store messages, and schedule stations and mixes to suit your business throughout the week. These can all be based on who is on shift, what season it is in your city, and much more.
Cloud Cover Music Gives You the Flexibility & Affordability You Need
While you may like the freedom of choosing a playlist and letting it run, many business owners want more control over what their customers listen to while they are in their place of business. Cloud Cover Music provides tailored playlists that you can choose from, the ability to combine those playlists, and simple song removal options, including permanent removal if you just hate a specific track. This gives business owners the best of both worlds with readymade playlists they can further customize to fit their business's needs.

At Cloud Cover Music, we continually update our database with new music, as performing rights organizations update their catalogues and send out the latest hit singles. You can schedule music just like you can with the other streaming for business services, but we take pride in being a much more affordable and personalized option.

If you are frustrated with your current music for business option, try Cloud Cover Music for 14-Days. It's a free trial, and no contract is required. You'll be happy you gave us a chance.