Playing music in your business used to require paying fees to at least one performing rights organization (PRO). Many business owners paid multiple PROs for access to beloved classics, the latest hits, and their personal favorites to create a strong, diverse playlist.
With personal streaming services like iTunes or Spotify, more people have come to love the convenience of millions of songs available at their fingertips without worrying about paying multiple performing rights organizations. Some companies, like Apple, experimented with products made for business owners.
Apple Music for Business was one of the first and most popular options for businesses to legally play music. While it's no longer a viable option, as Apple Music for Business was quietly shuttered, companies can choose another partner and pay one license fee rather than paying several PROs separately.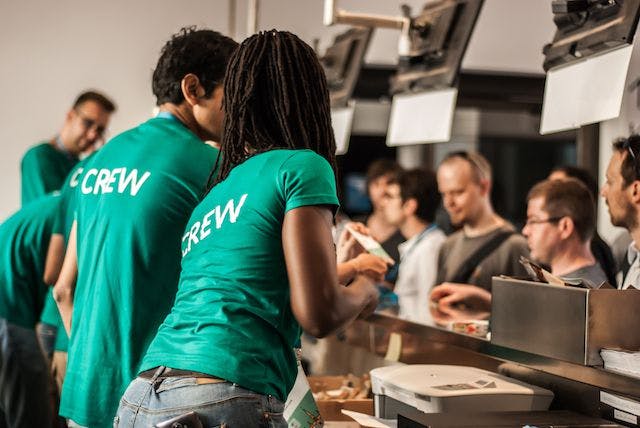 Services Once Provided Through Apple Music for Business
Since iTunes set the standard for music licensing and streaming for individuals, it makes sense that they took their popular interface and updated it for businesses. 
Apple Music for Business options included these benefits:
Allowed customers who use iTunes or Apple products to listen to your company's playlists and share them with fellow Apple users
Worked with music editors at Apple Music who crafted new playlists for various moods and themes
Adjusted playlists based on popular music in a specific storefront's region
Featured an easy-to-navigate user interface that worked with computers, tablets, and smartphones of all types
For Apple loyalists, the ability to use a familiar interface in a business setting was a dream come true. But the product never really took off, and Apple decided to close it down. 
If you were hoping to use Apple Music for Business, you must look for another solution instead.
Alternatives to Apple Music for Business
Apple Music for Business is not alone in the field. Apple has several valid competitors that offer compelling offerings. Here are a few of them:
Spectrio Music for Business 
One of the most comprehensive services for business owners, Spectrio manages licenses with performing rights organizations so you can stream music legally. Create custom playlists, manage them through a simple user interface, and schedule songs for specific times and locations.
Unlike Apple Music for Business, Spectrio helps you create custom in-store messages and insert them into your playlists, so you can speak directly to customers about upcoming sales or promotions while they shop. You can get help from Spectrio's hardware installers to have technology, like high-quality speakers, appropriately installed in your store. As a result, your customers always get the best sound quality.
Spectrio can provide additional services like on-hold music and messaging for your business's phone system, digital signs and menu boards, interactive kiosks, and scent-based marketing. 
Cloud Cover Music 
Cloud Cover Music is owned by Pandora, one of the most recognized names in streaming music. The company was one of the first to license music for individual use while allowing users to create playlists based on genre or type of music. 
The original effort started with the Music Genome Project, so users could start with a band or song they liked and then get a "radio station" created for them with songs based on their original preferences. Users could then tell the program they liked or disliked specific songs, which would refine the station, resulting in more pleasing playlists. 
Pandora became increasingly popular as more people started using phones and tablets to stream their stations while they worked, exercised, or played. The company soon realized that business owners who used Pandora for personal reasons would benefit from appropriate business licensing with a similar user interface. Pandora partnered with Mood Media, the company behind Muzak, to manage business licenses for music. 
SiriusXM for Business
For business owners who want to entertain and relax their customers without constantly creating branded playlists, SiriusXM for Business gives you access to the latest options in music, licensed to play in your business, on hundreds of different radio stations. Several are commercial- and DJ-free, so your customers get uninterrupted tunes. 
You can use their streaming service, or you can set up their hardware in your store so you can dedicate computers, tablets, or smartphones to other tasks. Your music will not rely on your internet speed and quality. 
Many business owners like the simplicity of the app to manage music in their stores, or they take advantage of SiriusXM's partnership with Sonos to have the best sound quality possible. 
As you franchise your business, SiriusXM can also help you with branding your programming, customizing "in-business" messaging, employee access, hardware installation, dedicated websites and other enterprise options.
Cloud Cover Music: A Huge Licensed Library at a Reasonable Price
Cloud Cover Music is a service dedicated to just businesses, providing high-quality streaming music with the right licensing from performing rights organizations. You can interface with hardware that works best for your business, including your smartphone or tablet. Manage scheduling, playlists, and employee or storefront access from wherever you are.
Test out Cloud Cover Music for 14-Days at no cost. After your free trial, the streaming music option is available for as low as $16.16 per month. This is a much lower price than what many competitors offer, but you get the same access to several PRO catalogs. You can also get in-store messaging and control for multiple locations for additional charges.
With Cloud Cover Music, you get extensive options and complete customization abilities, all with incredibly competitive pricing. Call us today to learn more about what we can offer your business.