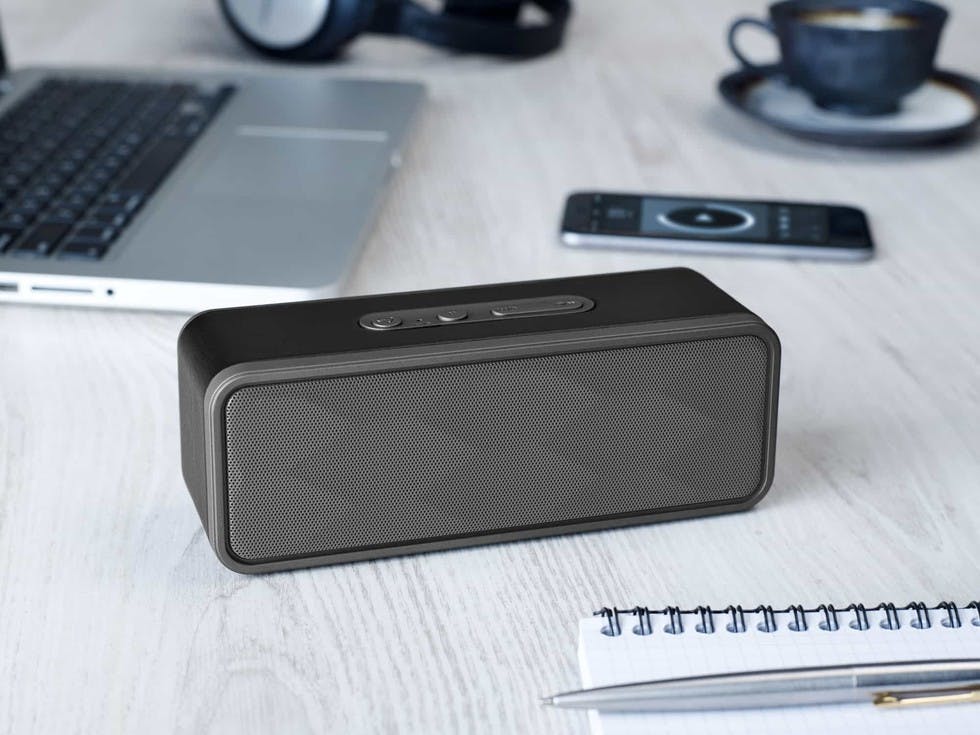 While your speakers are primarily designed to play music, you may also use your system to talk with your colleagues. You might need to interrupt the tunes in order to make an announcement, for example. You might need your speakers to play at a different volume in one room compared to another. You might also need tight control over an office speaker, so your employees or your customers cannot play any song they would like to play.
---
An office environment can also be very tough on a conventional speaker. Your office might be dusty or humid compared to your home. Your speakers might also be on and running all day, seven days a week, while your home speakers might only be running for a few hours each day.
---
For these reasons, it can be wise to look at systems that are targeted for a business environment. These sets have been designed for heavy use, and they can perform in even difficult or unconventional environments. They are also made to give you the control you need without a lot of programming, so they will work even if you don't work with electronics for a living.
According to Crutchfield, you have many options in terms of speakers for your system. You could use:
In-ceiling speakers, which lie flat to the surface of your ceiling. They can bathe your space with sound without taking up any space.
Pendant speakers, which hang from cables on the ceiling. These speakers bring the sound down to your audience.
Surface speakers, which can hang on almost any wall.
Indoor/outdoor speakers, which allow you to play music outside of your building.
In addition to the speakers, you will also need an amplifier. This piece of machinery takes in the music signal (such as a playlist or a radio program) and pushes it to the speakers. Once you have settled on the speakers you want to be part of your office music system, you can choose the amplifier that works with those speakers. Often, speakers and amplifiers are sold in sets.
Determining where your speakers should be placed can be a bit of an art. CNET, for example, has an eight-step process to help people align speakers for a single room filled with just one desk. A typical office environment has many more desks and many more people, so determining where the speakers should go can take time and planning.
---
In general, according to Crutchfield, it is better to have too many speakers than too few. If you do not place enough speakers throughout the space, you will have zones where the sound is too loud followed by spaces in which the sound is too quiet.
---
A sound engineer can help you understand where your speakers should be placed, and this professional might also install your system, so you can avoid wiring and electrical hassles. If you don't have extensive experience with electrical installations, this can be a good option.
There are literally hundreds of different types of speakers you could use to pipe music throughout an office. These are just five of the sets we think are optimal for the office environment.
Yamaha VXC-F Ceiling Speakers: This type of speaker is made to pop right into the ceiling of your office, and according to Yamaha, a main feature involves depth. The speaker has a slim profile, so it does not need inches and inches of room in your crawlspace in order to work perfectly. It is so slim that it can be installed in ceilings with limited space.
This is a full-range speaker, and it has built-in bass reflex. That means it is made to play music while delivering exceptional audio quality. It is sold in pairs directly from Yamaha, and you can connect several speakers to the same amplifier. You can also use this system with a microphone, so you can make announcements over the speaker.
Klipsch In-Ceiling Speaker Series: The Klipsch company is dedicated to creating sensitive speakers that can transmit even exceptionally soft sounds. This set of speakers, according to Klipsch, can be placed inside of pendant housing, so you can drop them down to meet the ears of your audience. If your space has high ceilings, which make ceiling mounts a poor choice, these could be just right for your office.
Speakers in this series come with a deep bass capability, so they can be used with all sorts of music, including hip hop. They are also designed to provide crisp treble sounds, so your music will not sound muddy.
Bose EdgeMax In-Ceiling Loudspeakers: Bose has long been associated with pure, crisp sound and a pleasing design. These loudspeakers are made to fit right into the ceiling, meaning that your employees and your customers are not likely to see the technology you have paid for, but they will hear the exceptional sound Bose is known for.
According to Bose, these speakers are designed to slide in the space between the wall and the ceiling. When installed properly, they will deliver the performance seen in bulky surface-mount speakers, but they will not take up as much space. Bose also claims you will not need as many of these speakers as you might need of surface-mount speakers due to the power packed within each speaker.
Sonos Four Room Set with Sonos One: The Sonos team prefers to sell their office speakers in sets, paired with their receivers. This particular set comes with a Sonos One, which will allow you to connect with music that is available through streaming services. That particular unit could be placed in one room while the speakers could be scattered within the same room or in other rooms. You can tag on other Sonos speakers as needed to fill even bigger spaces with music and sound.
Sonos reports that these components are humidity resistant, which means you could place them in kitchens and bathrooms without a problem. If your office is located in a traditionally muggy part of the country and you do not use a heating/cooling system to adjust for that, these could be a good choice for you.
Polk Audio RC80i In-Ceiling Speakers: This speaker is designed to fit within the ceiling, but it can also be popped into a wall. If you need to bring sound down from a high ceiling and a pendant is not the right option for you, this could be a good choice.
According to a review of these speakers in Audio Review, a main benefit comes in their movability. You can push the tweeter in these speakers to the spot within the room that needs the sound without changing the way the speaker is mounted in the ceiling or the wall.
These speakers are also moisture-resistant, so they can be placed in bathrooms and kitchens. The reviewers report that they are durable little speakers that can take quite a bit of abuse before breaking.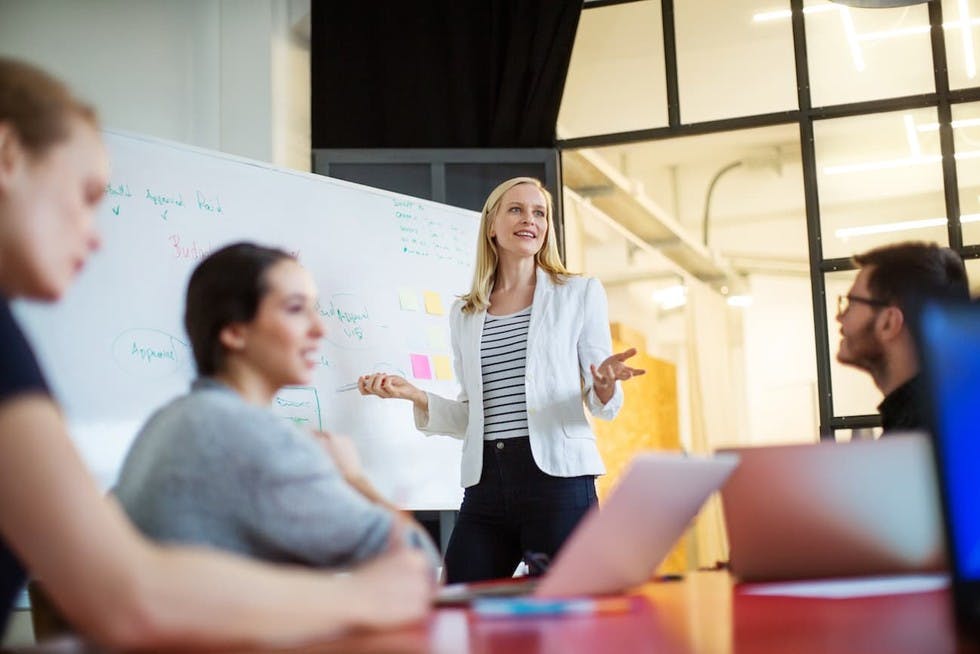 We have focused on speaker systems that could work in very large offices that take up several rooms or even several buildings, but not all offices are this big. In fact, some offices are little more than one room with several workers.
If you run an office like this, you may not need much more than one speaker/receiver combination.
There are plenty out there that require no installation or wiring whatsoever. You can simply charge them, place them in your office, and start the music.
One good option, according to the website Tech.Co is the Fugoo Sport. This tiny speaker can play for a whopping 40 hours on a single charge, and it produces robust sound that can fill up an entire room. The speaker is also portable, so if the office crew moves outside for a work party, the tunes can come along too.
Imagine that your office is on a construction site. You may have a trailer to work in, and that space may be somewhat protected from dust and humidity. But that speaker might get pushed aside frequently by your employees, and there may be times that the tunes need to move outside with you.
The JBL Charge 3 is a portable speaker, made to move with you from place to place. It is waterproof rated, so it can take a great deal of abuse before breaking. It can also connect to your smartphone via Bluetooth, so cords and wires should not be a problem.
This speaker will connect to multiple devices, according to Popular Mechanics, so you will need to ensure that your employees do not take charge and begin to play their own music. But if you're looking for a small speaker you can use in a construction office, this might be the right one for you. When the job is done and your office moves, this speaker can move right along with you, with no demolition or construction required.
With the right office speakers and the perfect music receiver, you are ready to fill your office with music. Next, you will need to ensure that you have the legal right to play the music you have chosen.
---
In the United States, music is protected via copyright. When you play music in your office, even if you are playing music you have purchased for your own personal use, it is considered a public performance. Each public performance requires a payment.
---
Performing rights organizations (PROs) send scouts into the field, looking for organizations that are playing music without paying the fees they owe. If your business is open to the public, a scout could come walking through your doors and demand payment. You could also see letters coming in the mail with similar demands.
"We can help. At Cloud Cover Music, we have an entire library of music that is appropriate for office use.
You can choose the right mix for your office, and you can set the music playing through our app. There is no difficult setup or instructions to follow. We make that easy.
We also work closely with PROs, and we have negotiated payment schedules with them. This means you will not have to contact each PRO individually and pay them. We will do all of that for you. That allows you to simply play the music you want to play without worrying about the details.
Let's talk about the music your office needs. Contact us today.