Once you have chosen the right music for your business, you will need to decide how your customers hear these great tunes. That means you will need to invest in some kind of speaker system, so the notes flow through your office in just the right way. And few companies understand the importance of good quality music like Bose.
Bose exclusively focused on sound systems, and according to some, this is the best company working in the sound industry right now. The company has produced sound systems that enhance music for all listeners, from individual stereo systems to large companies with huge retail spaces. Their expertise can benefit your customers and employees.
Here's what you need to know about choosing and using a Bose system for your office.
The Ins and Outs of Bose
The Bose company was founded by an engineer, and he set out to completely redesign and rethink the concept of a traditional speaker. The company invests heavily in research before launching products, and as an audio engineer writing in Medium points out, that research can be costly. The company pushes the cost of that research to consumers, which means the average Bose system is much more expensive than a system built by another company.
The research allows Bose to utilize unique technology within their speakers, meaning that very small speakers can pump out a great deal of sound.
The sound coming from those speakers can also be surprisingly complex.
CNBC reports, for example, that one type of Bose speaker has sound-producing transducers pointing in nine different directions. Only one points forward. At the time this product was launched, most competitors had transducers that only pointed forward.
The company has retained this technology, and this attribute of Bose speakers means that sound seems to pulse in multiple directions, reflecting off walls and bodies before it hits the ears of the listener. It is designed to produce a sound similar to that heard in an auditorium, in which the listener is bathing in sound that seems to come from everywhere.
What Components Do You Need?
Playing music in a large space or office typically means investing in three types of components:
A receiver that can connect to radio signals, a CD player, or a Bluetooth device (such as a phone)
A mixer that allows you to change the volume from one location to another or turn up the bass or the treble within the music
Speakers that transmit the sound into the room
Bose combines some of these elements, so you really only need two different kinds of devices in order to fill the office with sound.
The first is an amplifier/mixer combination. Bose provides many of these in the FreeSpace line that are appropriate for business settings. One model, the DXA 2120, can accept four different types of sound signals, and it offers technology that allows you to page with this system and transition back to music. Mixing functions are built in, so there is no need for another element. And it is made to work with and control Bose speakers, so setup is quick and easy.
There are several different types of speakers to choose from, including those that can be embedded within the ceiling and those that can be hung from walls. According to Bose, people who choose a system like this can mix and match the speakers they want, so they can cover the room with sound using different speaker types.
---
If you'd like to include music in an outdoor area, such as an external office picnic area or an exterior courtyard, Bose offers additional options. FreeSpace speakers made for outdoor areas are built to be installed either underneath porches and eaves, or on the ground.
---
In an office environment, it is vital to buy multiple speakers to spread the music throughout the room equally. While it is true that Bose speakers are made to spread music across a wide space, someone sitting very close to a speaker (even if it is well designed) will hear the music more acutely than someone who is sitting far from that speaker. The person sitting close may feel as though the music is too loud while the person sitting far away may feel as though the music is too quiet.
Most Bose products made for home use come with just one or two speakers, and that is unlikely to be effective in an office environment. Office owners will be wise to purchase products from the professional line, so they can get the coverage they need.
You can buy all of the components you need from Bose, or you can use a secondary retailer to get the pieces. The benefit of working with a retailer involves information and packaging. With one call, you could find out how many speakers you need, and with one click, you could make the purchase.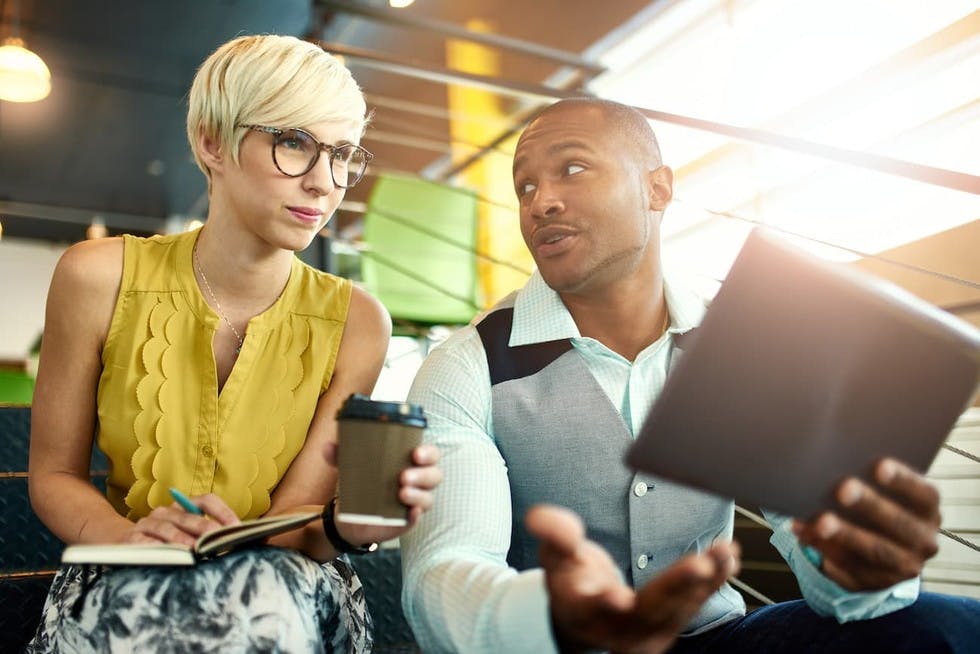 Installing Your System
If you get a Bose sound system for your home, you can typically set this up yourself. However, if you get a larger Bose sound system for your office or business, you should hire an electrician to install it for you. Larger systems are more complex, and typically involve wiring several devices together rather than using remote technology like Bluetooth connections. This installation process is best completed by a professional.
Before you have this system installed, here are some steps to consider:
Ensure the measurements of your office are accurate, either for the specific room where music will play or for the entire office. Knowing the dimensions of your space will help you know where to place speakers.
Determine whether you want to play music in multiple rooms of your office, in just one room, or if you want to play different playlists in different rooms. Your employees may need silence in one room, like a conference room, while they want to enjoy tunes in another room, like the break room.
Decide where you want volume and other controls located. These might be accessible to everyone, so employees can adjust the sound as they need, or they might be best under your control as the business owner or manager.
Contact Bose for help finding a recommended or licensed Bose installer.
Once you have decided where speakers and other parts of the sound system should reside, you should contact a recommended Bose sound system installer or electrician for a quote. While their professional experience will not be cheap — typically, electricians charge $50 to $100 per hour — having the satisfaction of a safe, secure, professional sound system can benefit your office.
Things to Consider About Your Bose Sound System
While many personal Bose products are designed for Bluetooth technology, allowing you to stream from a phone or tablet, professional sound systems are designed differently.
Professional sound systems installed in offices and businesses usually require more wiring and hardware to ensure the best quality sound for multiple listeners. The benefit of this, for you, is not needing to remove Bluetooth speakers from their nooks or shelves every night to recharge the batteries, as you might with a personal Bluetooth system. The downside is that you cannot easily adjust the placement of speakers once they are installed.
Considering speaker location, and even getting a professional consultation from a Bose specialist, can help you determine the best placement for your sound system.
Once your system is installed, it should be easy to operate. You will have only one control panel to deal with and one set of knobs to fiddle with. Turning the system on and off, and controlling the volume, should be easy.
When music is playing in the background, hearing conversation can be difficult. For example, in a study by the BBC, researchers found that reducing the background music volume by just four decibels in a television program made it easier for people to hear the dialogue.
A similar issue could happen in an office. Watching that volume will be important, so your employees can work efficiently while also receiving the subliminal benefits of music. Get feedback from your employees about volume and adjust accordingly.
If your speakers suddenly stop playing or your receiver does not work as expected, you will be protected by a robust Bose warranty. According to the company, warranties last between two and five years, depending on the type of product you purchased. Keep your paperwork handy, so you will be able to take advantage of that warranty if you need to do so.
Costs
The cost of each component in a professional Bose sound system can vary, depending on where you purchase it.
It is recommended that you buy directly from the Bose company, as you can get a new, high-quality product with an associated warranty, but you can also find products for sale on eBay or similar secondhand sites. While secondhand sites might be a great way to get a Bose sound system for your personal use, it is not as beneficial for business owners or managers seeking a professional sound system.
When purchased new, with a warranty, a Bose system might cost:
$1,299 for a subwoofer
$1,099 for a loudspeaker
$649 for an S1 Pro speaker system with battery
$2,398 for the Bose F1 model 812 Flexible Array Loudspeaker and Subwoofer
$999 for the Bose ToneMatch Mixer
$699 for the Bose T4S ToneMatch Mixer
Clearly, to get the best sound system for a professional setting, you should budget several thousand dollars, not including the cost of the electrician. However, you should note that this will be a cost you incur roughly once every 10 years.
Bose systems are designed to last for many years of use, especially in a professional setting. With service warranties and professional installation services, Bose proves that they offer the best deal for businesses.
Best Bose Systems for Your Business Based on Square Footage
Whether you have a small office space, a large retail space, or an outdoor restaurant area, Bose has a sound system solution for you. Here are some of the top options:
Restaurant and Retail Six-Speaker System with Bluetooth Amp: This system works well for both indoor and outdoor spaces, including smaller offices. You can adjust the speakers for many locations and move the amplifier around as needed.
Bose Retail Store Sound System with 12 FreeSpace Ceiling Speakers: Designed specifically for medium or large retail spaces needing lots of coverage for background or foreground music, this system's dozen speakers allow you to project music from several corners, so even areas that might be difficult to blanket with relaxing sounds get coverage.
Background Music and Paging Sound System with Six Ceiling Speakers: This Bose system is designed for very large spaces, up to 3,000 square feet, without breaking the bank.
What Should You Play?
At Cloud Cover Music, we can help you determine what types of music you should play in your office, and we can give you the legal right to play those songs.
Our fees are reasonable, and working with us is quick and efficient. We would love to tell you more about the packages we offer for business owners and offices. Contact us and let's discuss.