Thrift Store Music: How to Create Effective Playlists for Your Store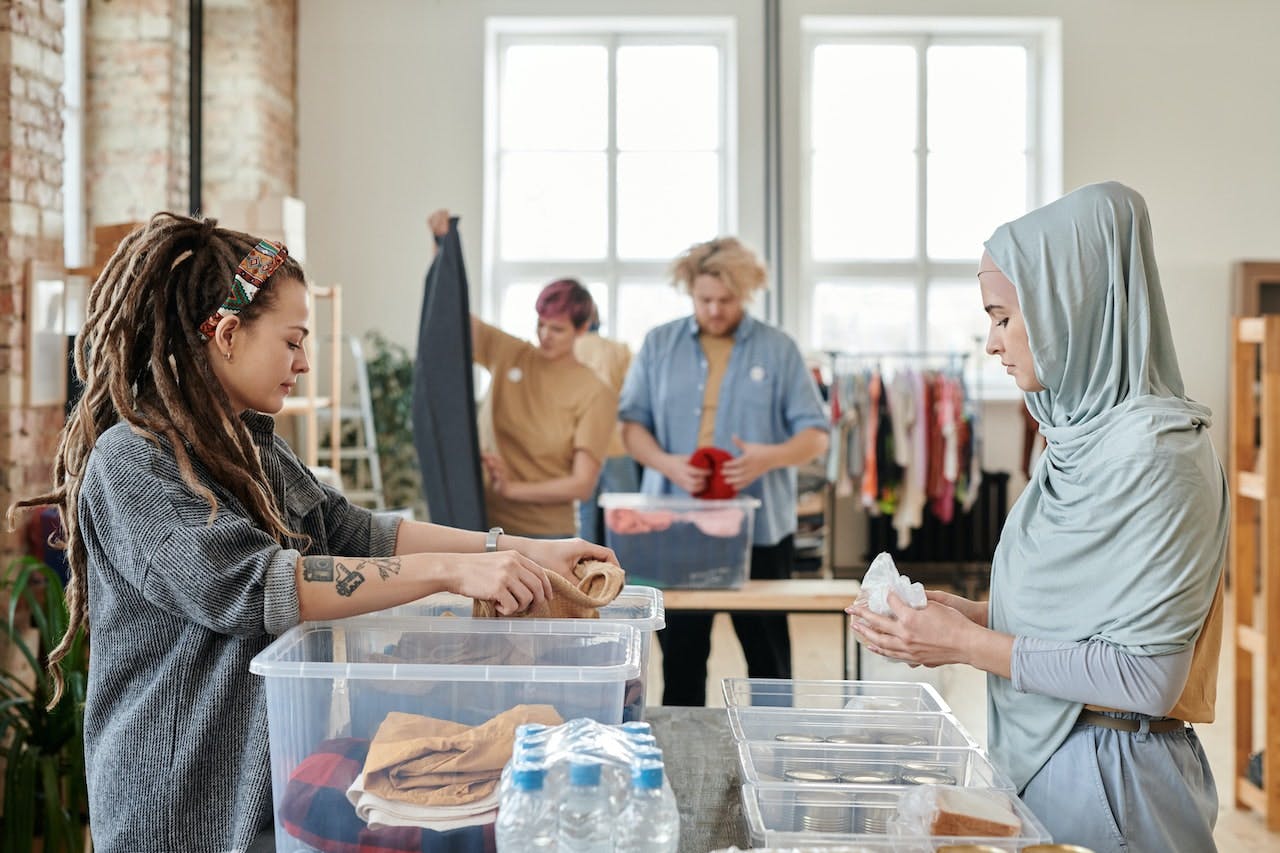 Playing music in your thrift store is an excellent way to draw in new customers. Upbeat shopping playlists give consumers extra pep in their step and increase the appeal of staying in the thrift store and rummaging through the clothing selection. 
Are you considering changing the music in your store or starting from scratch?
---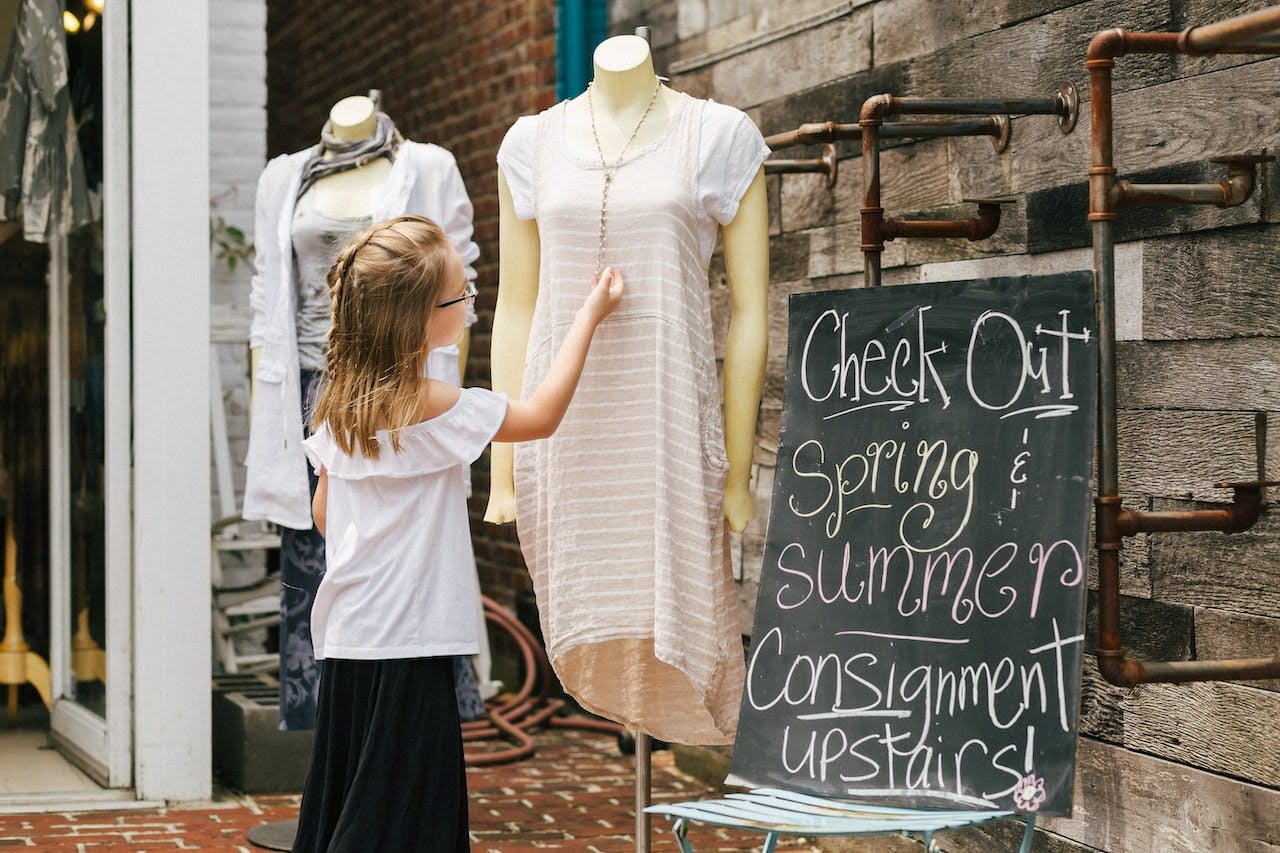 Playing music in your thrift store can positively impact the behavior of your customers. With music, a thrift store can bring in more people. Once they're in your store, they will likely stay longer and may even buy more of your products, depending on the music that you play. But how exactly do you curate the best thrift store playlist for your shop? Building a playlist from scratch can be hard, but you can follow these simple steps to create amazing playlists that your customers will appreciate:
Avoid Generic Playlists and Hit Singles 
We recommend creating a thrift shop music playlist with songs that relate to your brand (and that your customers will actually enjoy). Every song you play reflects your brand as much as your products do; as your customers are shopping, they will judge your brand with their ears. So, you can't just throw on whatever is on the radio and expect your playlist to draw customers. Consider what your thrift store business represents and what kind of music your target audience listens to. For example, your target customers might like indie music or rap music more than Top 40 hits. This doesn't mean that you can't play Top 40 hits at all. But instead of assuming your customers will respond to popular radio songs, you should create a playlist that speaks to your audience. 
Check that You're Legally Playing Your Music 
It's essential that you are legally playing your music in your thrift store. You may be tempted to simply set up a radio or plug in your Spotify or Pandora playlist to blast some tunes in your thrift store, but this method can have some pretty expensive, long-term consequences. Businesses around the country have faced lawsuits for playing overhead music in their stores without a proper license. In some cases, fines ranged from $10,000 to $60,000. The cost of these fines and legal fees could hinder your ability to afford crucial business expenses. So, the risk just isn't worth it when you can easily find an affordable music licensing company. If you run a thrift shop, you should consider using a music streaming company, like Cloud Cover Music, to play music legally in your thrift store.  
Consider How Your Customer Base Changes Throughout the Day
Look at your target customers and think about how and when they visit your thrift store throughout the day. Do your demographics change during the day, and do people have different behaviors and needs as the afternoon approaches? For example, you might notice that your older customers visit your store earlier in the day, while your younger customers visit later in the evening. You could choose to play music in your thrift shop that caters to each client base at the appropriate times of the day. When you're creating your thrift store music playlist, you should consider these customer demographics, as well as their interests.
Look for Unique Bands and Musical Artists
One of the biggest benefits of using a streaming service like Cloud Cover Music is that you can access millions of songs to add to your thrift music playlist. You can explore different genres and artists to determine if their music matches the vibe of your thrift store. Additionally, you can play music from lesser-known artists to help them get "discovered." Including these artists on your playlist will help you brand your thrift store as a unique venue for shoppers to visit at the same time. When you are playing your thrift store playlist, make sure to note how your customers react to the music and which bands or genres they are enjoying.
Create a Cohesive and Smooth Playlist
When creating the perfect playlist, you can't just add hundreds of songs and hope that they flow well together. Instead, you need to blend a variety of different artists, songs, and genres that actually go well together. You want to make sure that the music flows well and blends smoothly. If you follow a ballad with an uptempo dance tune, it may be jarring and your customers may feel uncomfortable. In the same way, an unexpected slow song can completely change the dynamic of the shopping experience. Consider creating multiple playlists to select and play throughout the course of the month.
Test out different shopping playlists
You don't need to create the perfect thrift store music playlist in one go. We recommend creating new playlists to see what your customers like and what they don't enjoy. Most brands and companies switch up their playlists each month, allowing them to choose seasonally relevant songs. Regular playlist adjustments ensure that you're keeping the music as fresh as possible. You can also try out different shopping playlists throughout the course of the month to see which playlists drive the best results with your customers.
---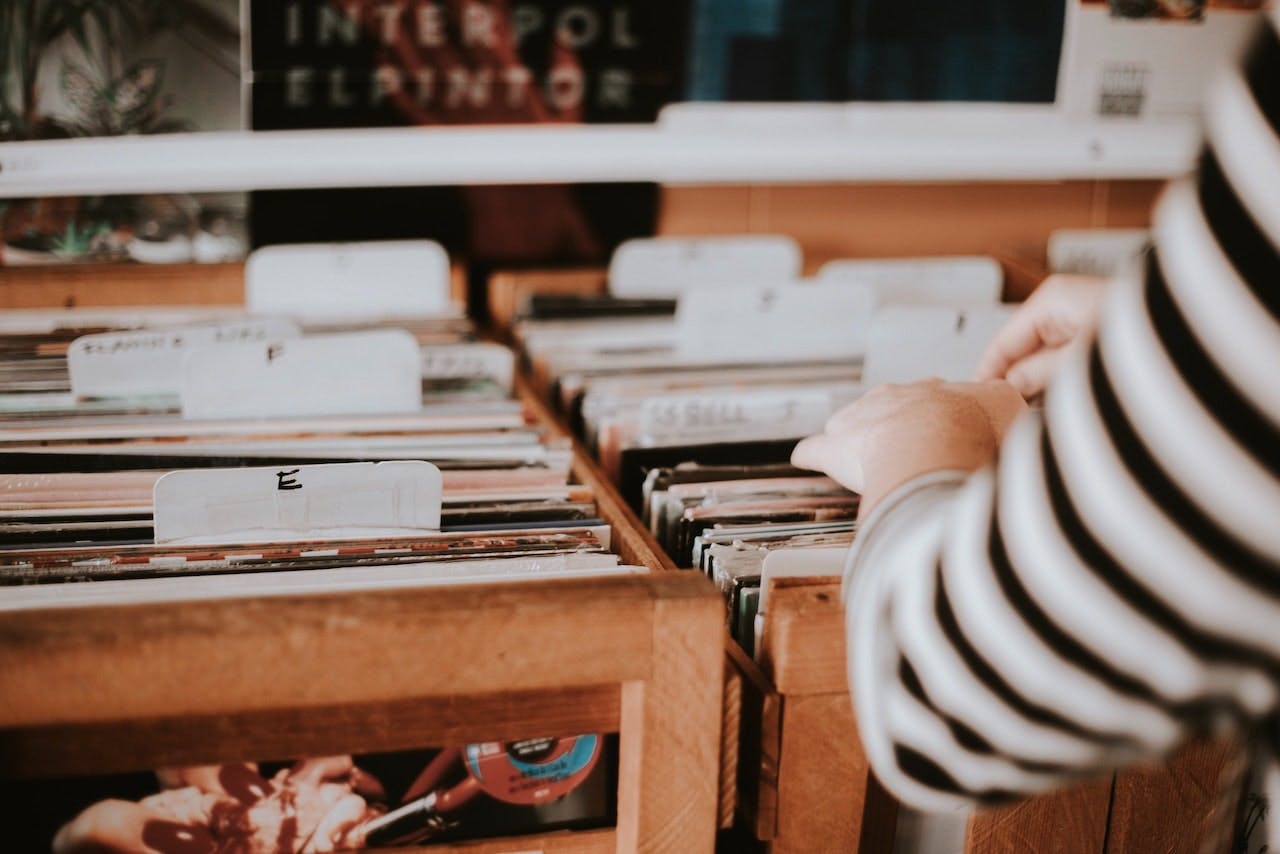 Here are some of the top songs to play at your thrift store:
"Thrift Shop" by Macklemore: Macklemore definitely makes thrift shopping sound fun in this catchy pop hit.
"Good Day" by Nappy Roots: With children singing along with the chorus, this song will put your customers in an amazing mood.
"Thrift Shopping" by Matt Ward: This indie song has a happy upbeat tune.
"Salvation Army Clothes" by Star and Micey: This indie tune about thrift shopping will take your customers to a happy place.
"Garage Sale" by Kosha Dillz: With an upbeat tune, this song will put smiles on your customers' faces.
"Happy" by Pharrell Williams: True to its name, this happy pop hit will keep your customers' energy up while they're shopping.
"Motownphilly" by Boyz II Men: This '90s R&B hit is a great addition to any playlist.
"Could You Be Loved" by Bob Marley & The Wailers: This '80s reggae song is another upbeat hit to keep your customers happy.
"Material Girl" by Madonna: This is another upbeat pop song about shopping.
"One Way or Another" by Blondie: This '70s punk rock song is a high-energy hit for your customers.
---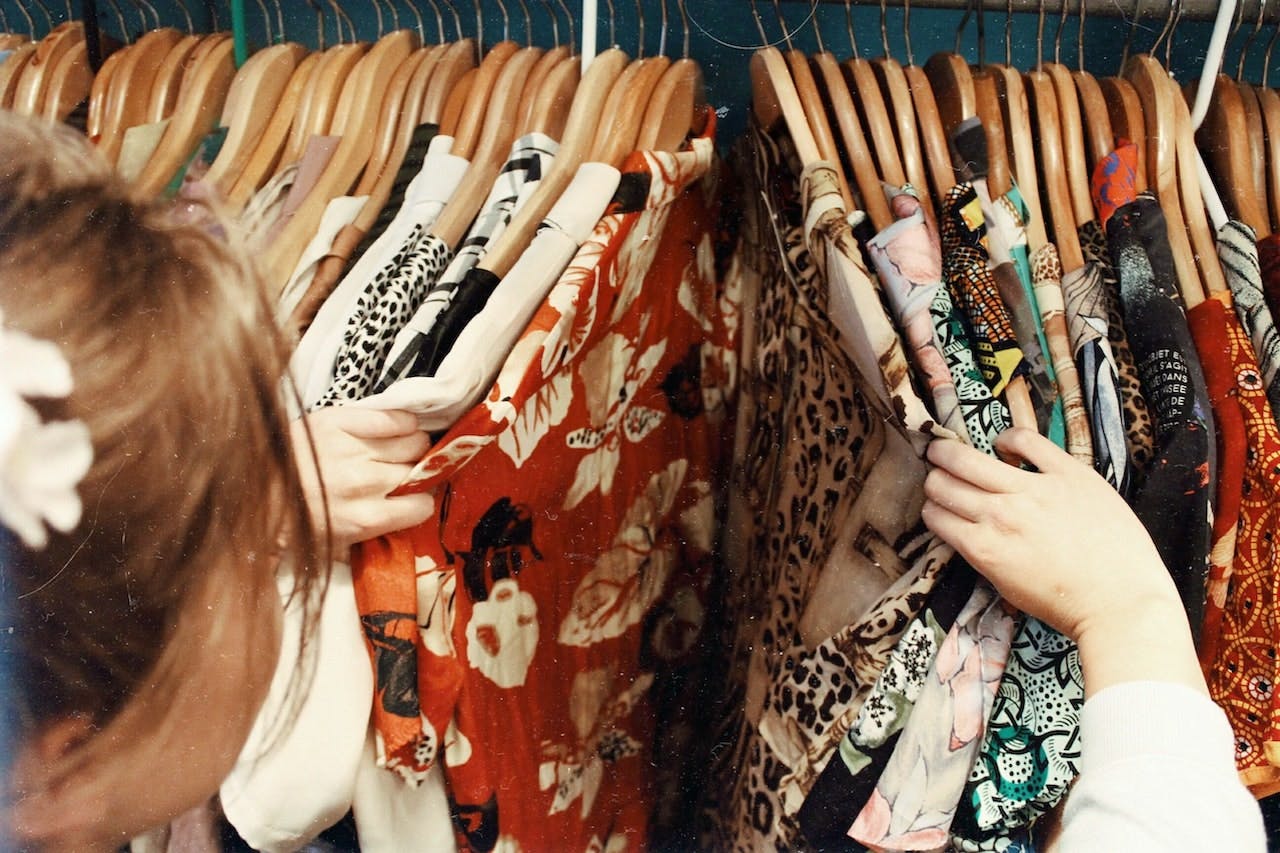 There are plenty of ways to bring in new customers to your thrift store business, including:
Host Events
Some thrift stores enable customers to host their own events, parties, or gatherings at the store. As the thrift store owner, you can provide the refreshments or even help incorporate a fashion show as part of the event. You can also plan your events, including classes on areas of interest related to the merchandise category, such as furniture painting, packing for travel, and scarf tying. Every time you host an event, you provide an opportunity to bring in new customers, some of whom may have never visited thrift stores.
Advertise your Inventory Online
Another great way to market your thrift store is to advertise all of your inventory online. Advertising your products online makes it super simple and easy for someone who sees an item they think a friend, family member, or loved one might love to forward the link to them. Some stores even integrate an e-commerce platform so customers can make purchases online. 
Offer Items That Appeal to Your Target Demographic
It's crucial to provide items for the right demographic. For example, the neighborhood that your thrift store is located in should determine the style of items that you list for sale. For example, is your business located where a lot of families congregate or live? You should make sure that your thrift store provides kids' clothing and toys. If you live in an area with plenty of rental housing, you should sell furniture that renters might need when they are moving in. The thrift store industry is more specialized than industries like grocery stores or convenience stores, which tend to carry the same types of products. Each thrift store has its own target market.
Make Technology Your Friend
There are plenty of thrift stores out there that don't take advantage of modern technologies, like email, social media, and e-commerce. So, if you make technology your friend, you can gain an advantage over your competitors. We recommend that you keep up with current tech trends and be proactive and creative with your social media and modern marketing methods. You should collect all of your customers' email addresses and alert them to upcoming sales. If you want to go the extra mile, sound out birthday greetings to your newsletter subscribers.
---
Choose Cloud Cover Music 
If you want to learn more about thrift store music and marketing, contact Cloud Cover Music. We have exceptional business music services that elevate your thrift store brand and marketing strategy.