As a retail store owner, you want your customers to enjoy their experience while they shop. There are many things you can do to enhance the time they spend in your store.
Colors can be carefully chosen, spacing between displays can enhance each product, and even the music playing in the background can help them relax, find what they need, find new things they want, and feel great about your brand.
In fact, music is deeply connected to our emotions, so playing music in your storefront can have a huge impact on the experience your customers have in your store and how they perceive your products or services. It can also have an impact on your employees. Even if you cannot make many changes to the environment around you, background music can help to reduce ambient noise from the outside world and the other customers, improve mood, reduce anxiety, and enhance focus – that is, as long as you choose the right music.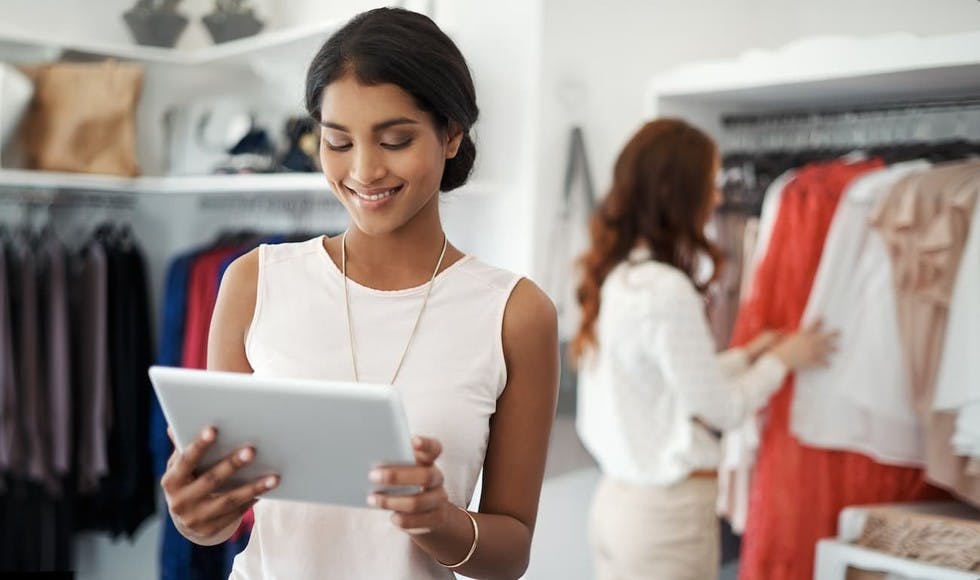 Calming music generally helps customers slow down, enjoy browsing, and relax into the retail experience. Faster music with a stronger beat can make them move or eat faster, but their mood may still be improved because they feel energetic.

Customers reported that in-store music choices did, in fact, impact them: 35 percent reported staying longer, 31 percent reported wanting to go back, 21 percent reported they would recommend the store to a friend, and 14 percent said they would be glad to buy more items.

But what kind of music makes customers do all these things? It depends a lot on genre, tempo, tone, and mode or melody. Classical music, for example, makes people willing to pay more for luxury items, such as more expensive wines even if they do not know much about wine. Luxury items like watches are perceived as even more high-end, and people in psychological studies report that they would be willing to pay more for these items compared to the items they purchase in silence or while listening to ambient noise or another genre of music. However, in stores marked as convenient, fast, or cost-friendly, playing classical music creates a dissonance with the rest of the store, and customers in these situations report feeling negatively about that experience.

Loud music causes customers to move faster through the store, but this will not be a pleasant experience for many people.
---
If your store needs fast turnover or people to move more rapidly, consider up-tempo, happy music for retail stores instead. This kind of music can also improve your employees' mood and focus, making customer service interactions more pleasant and helpful.
---
Slow-tempo pop music has been reportedly associated with more impulse purchases, so if your store focuses on novelty items or has a lot of items near the cash register, this may be a good choice for you. The most recent pop songs, as listed in the Top 40 Charts, can bring in more teenagers and young adults, and encourage them to spend more. Jazz and classic rock, on the other hand, may attract an older demographic. If your store is associated with a specific age group, consider focusing your playlist to their interests.
Planning your music – or working with a professional service to design and plan it for you – is crucial to creating the best atmosphere for your customers. Randomly shuffling from music you have licensed to play in your store is not enough. The time of day may influence the customers who come in, what they want to buy, and how willing or able they are to stay in the store for longer. However, don't get stuck on one long song; play several songs, which can keep your customers' minds engaged.
Based on the information above, each playlist for each business should be customized. However, here is a playlist to get you started in your retail store:
Mozart's Piano Concerto No. 20, 2nd Movement "Romanze"
"Girl from Ipanema" in its original Brazilian bossa nova
John Coltrane's "My Favorite Things"
Herbie Hancock's "Chameleon"
Count Basie's "One O'Clock Jump"
"The Mambo Craze" by De-Phazz
"Interstellar Overdrive" by Pink Floyd
"A Taste of Honey" by Herb Alpert and the Tijuana Brass
Duane Eddy, "Moovin' 'N' Groovin'"
Bill Doggett, "Honky Tonk, Part 1 and 2″
The Ventures, "Walk, Don't Run"
Miles Davis, "Right Off"
Mahavishnu Orchestra, "You Know, You Know"
James Brown, "Ain't It Funky Now"
"Landslide" by Fleetwood Mac
"Mad World" by Michael Andrews
"All Along the Watchtower" by Jimi Hendrix
Journey's "Don't Stop Believin'"
"Respect" by Aretha Franklin
"Blackbird" by The Beatles
Variations on this playlist are strongly encouraged. The one above includes several popular, jazz, blues, cover songs, classic rock, and classical music, which can smooth the way to the cash register for your customers.