Thousands

of businesses trust Cloud Cover Music for their legal business music streaming service..
Why Is Background Music for Offices So Important?
People listen to music an average of 18 hours per week, and it's playing in the background for up to 68 percent of the average American's waking hours. We use music to help us relax, enjoy our surroundings, and muffle unpleasant noises.
Those same benefits could be critical for a successful office environment.
The music you choose could make the space a great place to work or play. Highlight the benefits for potential buyers or renters, or use the right songs to help residents settle in.
Let Cloud Cover Music be your partner, delivering the music — and support — you need for success.
Music for Offices and Office Buildings
Curated and customized playlists for offices to meet the needs of your business model.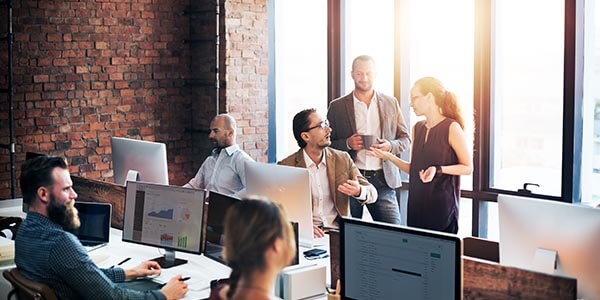 Music for Offices
Office culture has changed in recent years with the widespread adoption of open-office concepts. These new spaces feature shared desks, low partitions and glass walls designed to encourage collaboration. As an operator, you can influence increased productivity, inspire creativity and mitigate common open-office issues with the appropriate overhead music for offices. Manage departmental playlists and empower managers with distinct music zones designed specifically to meet the needs of different employee groups.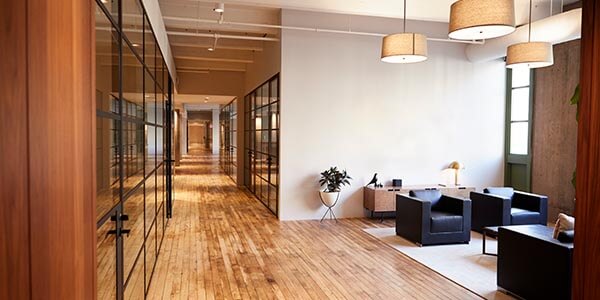 Lobby Music
Cancel your magazine subscriptions, audio-video technology is transforming the modern lobby into a multi-functional area designed to keep occupants patiently engaged and informed. As a building manager, you can leverage your lobby's music system to stream targeted music and messaging to decrease perceived wait times and increase customer service ratings.
Why Choose Us as Your Business's Music Solution?
Hundreds of stations for a low price

Cloud Cover is an industry innovator, streaming music for business without long-term contracts or compromise at an unbeatable price.

All Licensing Included
Cloud-based platform
Wide variety of stations

nest_multi_room

Multi-location management from the app

Stream at a single location or manage thousands of locations by setting permissions for regions & zones.

Manage one or multiple locations at once
Set permissions for devices, playlists and messages
Customize payment sources, methods and frequency

Music zones & branded messaging

Influence Customers & Reinforce Employee Training with Integrated Promotional Messaging.

Play multiple streams within a single location
Upload ads & messaging to seamlessly blend into your music
Promote sales and incentivize engagement

Built with small & enterprise businesses in mind

Strategic partnerships allow Cloud Cover to service enterprise businesses with world-class reliability, scalability and support.

Best Buy installation, support, equipment & financing
Native Sonos integration
99% uptime via AWS streaming

Reporting and tracking for all activity

Monitor local streaming and messaging activity with compliance and daily use reports.

Streaming reports on what's been played
Report by location to ensure consistency
Track sales against promotion and station schedules

auto_fix

Custom tailored to your brand

Our degreed Ethnomusicologists survey stakeholders to curate a streaming music program customized for your business's needs.

On-site BrandMatch surveys
Custom brand mixes & station blends
Custom daypart scheduling for stations & ads
From $16.16*/mo*
|
Legal Music for Business
*When Prepaid Annually. Terms & Conditions Apply.




All plans include Public Performance Licenses for: