Millennials are changing the world around them. Their focus on sustainability has pushed companies to reduce the packaging they use to protect products. Millennial passion for technology has prompted companies to put computers in places computers have never been before, including refrigerators. And a millennial love of travel is changing the hotel industry too.
According to Adweek, 82 percent of millennials took a vacation within the last year compared to just 75 percent of all Americans. That means millennials are a prime audience for almost any hotel. How can you entice these traveling people to stay in your hotel instead of the hotel down the street?
For some hotel chains, the answer comes in the form of hotel music. As Forbes points out, some hotel chains are teaming up with musical powerhouse bands and creating streaming broadcasts of live hotel music. These hotel music events, they hope, will keep their brands top of mind for young travelers planning to book a vacation.
You may not have the budget to create a lobby music program, or you may cater to an older audience that wants rest and comfort.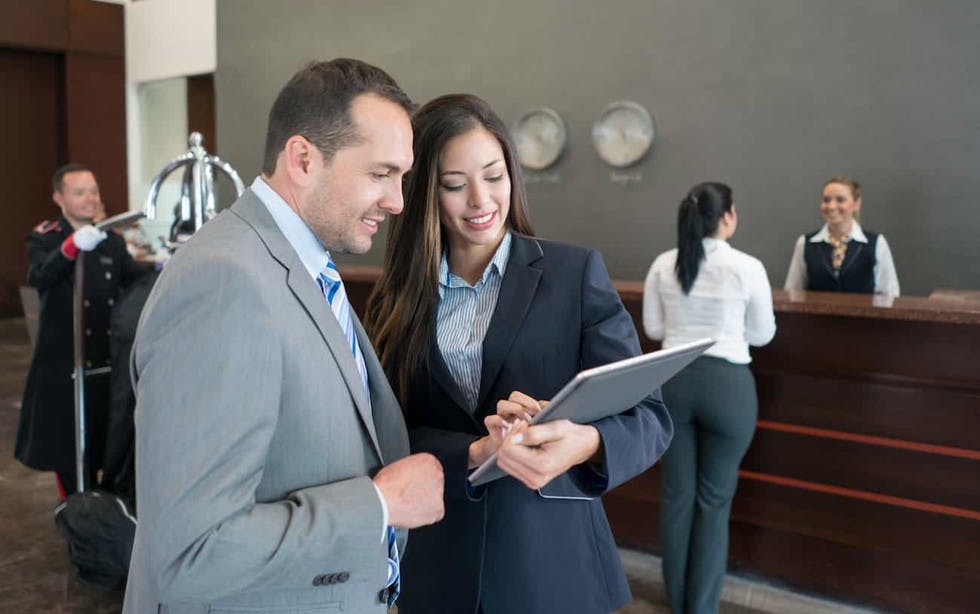 ---
Does that mean you have no musical options? Absolutely not. In fact, there are several ways you can incorporate the perfect in-store hotel lobby music into your establishment and differentiate your brand while keeping your customers happy at the same time.
---
Hotels have several spaces where music could be a welcome addition. You could play hotel background music in your:
Lobby
Restrooms
Elevators
Hallways
Cafes
Restaurants
However, you can't just put on your favorite playlist and call it a day. You'll need to do some research and learn about the best songs for background music. Coming up with the right music for a hotel playlist means spending time thinking like your guests. Consider where they're coming from and what they might expect to do once they've arrived, and consider how those expectations might fit into your brand promise.
For example, a hotelier interviewed by The New York Times suggests that music for hotels should help guests to step into the culture of the city the hotel is located in. If you are in Nashville, for example, a country music playlist could set the mood for your guests. If you're in an urban area, playing local hip hop or R&B could help your guests to acclimate to your local culture. If you play up your city's culture in your decorations and the themes within your rooms, making a match with music is especially important. This is how you can help your guests to understand what they can expect to experience in your location.
The lobby songs you play can also help you to move beyond the traditional culture of service found within a hotel. In research published in The Service Industries Journal, authors suggest that hospitality should no longer be about courteous behavior from staff. It should also include elements and amenities that both surprise and delight customers, and making them feel special. In fact, the authors suggest that a successful experience will include plenty of surprises.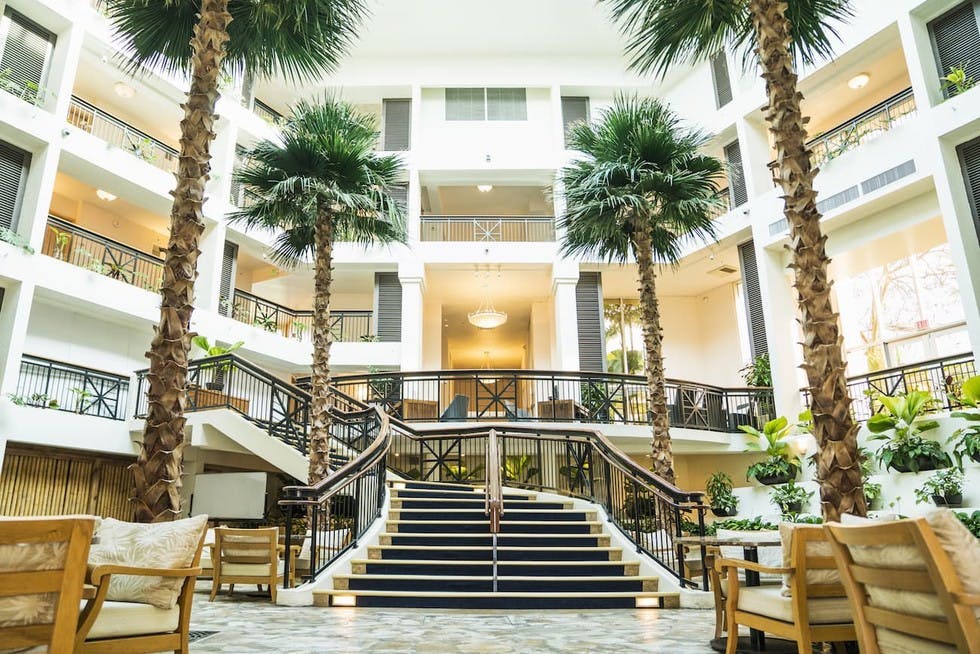 You could surprise your guests with music that changes by location, so the songs they hear and enjoy in the lobby or gallery are different from those heard in the hallways, bars or guest suites. You could also include local songs that your customers have not heard before, which could get them tapping along with the beat.
Switching the hotel lobby song by zone could also help you to move past some of the difficulties associated with travel. For example, when people come to your hotel from the airport, they may be tired, hungry, and frazzled. Meeting them in the lobby with a music playlist that is soft, soothing, and welcoming could help them feel relaxed and comfortable in a restful space. The music you play in the dining room for breakfast, on the other hand, could be the soundtrack that starts a day of meetings or tourist activities. Keeping the tempo here upbeat and fast could help them prepare for the day ahead.
---
No matter what music or music service you choose, be aware of the volume. If the music is too quiet, it may not compete with the loud chatter and rolling luggage of your customers. If it's too loud, on the other hand, it might cause your guests to shout at their companions. Mind the tone and aim for a balance.
---
Playlists
Song: Bluefield
Artist(s): Martin Tallstrom
Song: Bonaparte's Retreat
Artist(s): Bryan Sutton
Song: Bryant's Boogie
Artist(s): Bill Frisell
Song: Double Dutch
Artist(s): Jesse Cook
Song: Fool About You
Artist(s): Martin Tallstrom
Song: Give Me The Roses
Artist(s): Bryan Sutton
Song: Gravity - Instrumental Version
Artist(s): Lance Allen, Avery Bright
Song: Horpe's Reel
Artist(s): Hawktail
Song: I Should Have Known Better
Artist(s): Stephen Bennett
Song: L.A. Blues
Artist(s): Martin Tallstrom
Song: 6 Impromptus, Op. 5: Impromptu VI
Artist(s): Jean Sibelius, Leif Ove Andsnes
Song: Ambre
Artist(s): Nils Frahm
Song: Fly
Artist(s): Ludovico Einaudi
Song: Interconnectivity
Artist(s): Sigríður
Song: Inside River, Pt. 2
Artist(s): Akira Kosemura
Song: Le Matin
Artist(s): Yann Tiersen
Song: Over There, It's Raining
Artist(s): Nils Frahm
Song: Pinô
Artist(s): Otto Totland
Song: Prélude
Artist(s): Alexandra Streliski
Song: Rays of Hope
Artist(s): Oneke
Song: Be Encouraged
Artist(s): Kiefer
Song: CandleLit
Artist(s): DJ Harrison
Song: Hiking
Artist(s): Mndsgn
Song: I'm Sorry
Artist(s): Glimlip, Yasper
Song: Inside All Day
Artist(s): Aso
Song: Intro
Artist(s): The xx
Song: Love Is the Message
Artist(s): Yussef Dayes, Alfa Mist, Mansur Brown
Song: Massage Situation
Artist(s): Flying Lotus
Song: Mojo
Artist(s): Loowps
Song: Never Mess With Sunday
Artist(s): Yppah
Music is not just important to you. It's also important to the people who hold the copyright. Each time you play music in your hotel, you could owe a small payment to those that hold the copyright. Those organizations, called performing rights organizations (PROs), will demand the money they are owed in person, in letters, and/or in lawsuits.
Hotels are very vulnerable to confrontations with PROs. As Michelman and Robinson, LLP point out, PROs hire staff to walk through organizations and seek out unauthorized use of music. Because hotel lobbies are typically open to the public, you could face a visit by a PRO rep at almost any time.
Don't get caught. Make sure you have a legal right to use your music.
Make sure you have a legal right to use your music before the first note comes out of the speakers. At Cloud Cover Music, we have relationships with the major PROs. We can offer you the music that is right for your hotel community, at a price you can afford. We can give you access to this music with the legal issues covered, so you'll be ready if PRO reps come into your hotel and demand proof that you're following the rules. Our music library is vast too, so you don't have to settle for music that isn't right for you.
Let us prove it to you. Contact us to start a free trial and see just how easy it is to find the right music service for your business.