The music you play throughout your hotel sets the tone for your guests' experience.
It directly influences how they perceive your hotel and the type of experience they expect when staying with you.
There are several ways you can incorporate music into your hotel and differentiate your brand while keeping your customers happy at the same time.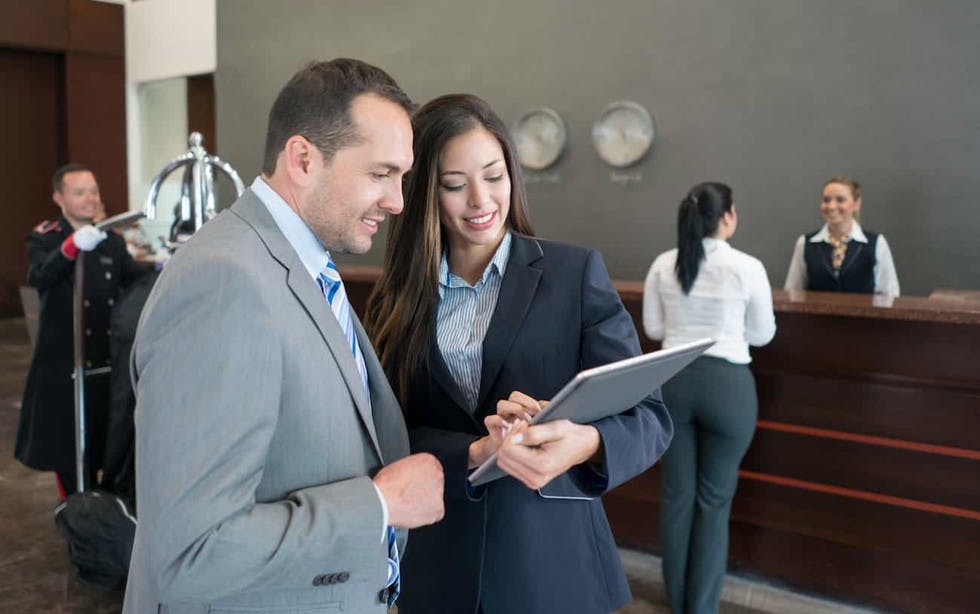 Why Does Hotel Background Music Matter?
Music has a direct effect on how people perceive businesses, including hotels. In one study, 81 percent of customers found that music playing in a store lifted their mood, enforcing a positive association with the brand.
Whether you cater to a younger clientele who are looking for a festive atmosphere or an older crowd who wants relaxation and comfort as the focus, music can elevate the experience of your hotel for everyone.
The background music you play in your hotel lobby will give prospective guests an idea of what they will experience when they stay with you. If the music is calm and soothing, it will draw people looking for a relaxing stay. Upbeat, fun music will entice people who are looking to party and have a good time.
If the music you play runs counter to the hotel vibe, it will confuse guests. Make sure the background music fits with the intended atmosphere and experience of the entire hotel.
Hotels have many spaces in which music could be a welcome addition. You could play music in your:
Lobby
Restrooms
Elevators 
Hallways 
Cafes 
Restaurants 
Finding the Right Genre for Your Hotel
Coming up with the right music genre for your hotel means spending time thinking like your guests. Consider where they have come from and what they might expect to do once they have arrived, and consider how those expectations might fit into your brand promise. 
For example, a hotelier interviewed by The New York Times suggests that music should help guests to step into the culture of the city the hotel is located in. If you are in Nashville, for example, country music could set the mood for your guests. If you are in an urban area, playing hip hop or R&B could help your guests to acclimate to your city's culture.
If you play up your city's culture in your decorations and the themes within your rooms, making a match with music is especially important. This is how you will help your guests to understand what they can expect to experience in your location.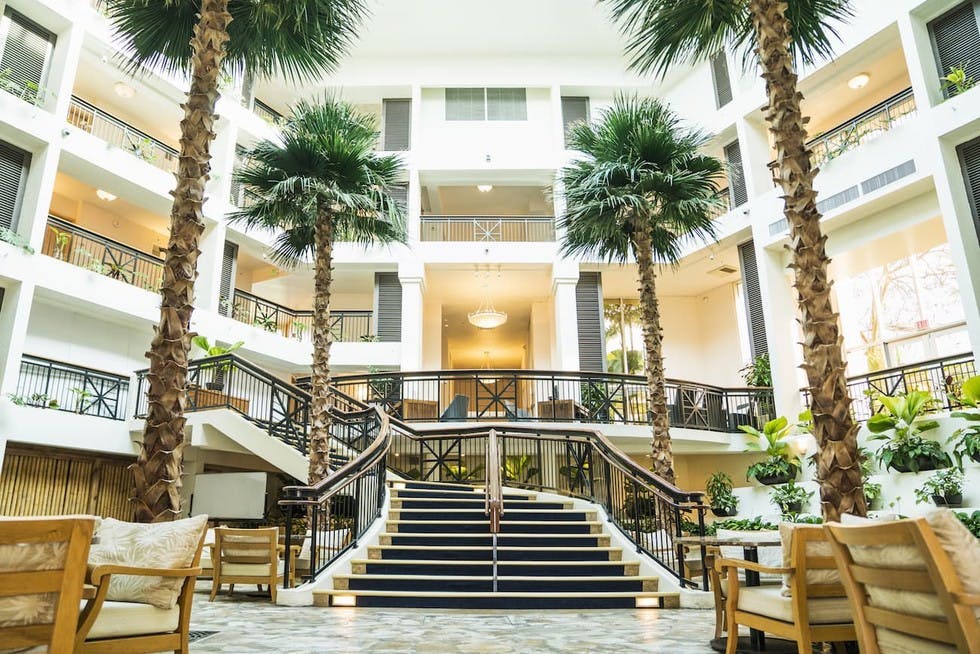 Music That Matches the Experience
The music you play can help you to move beyond the traditional culture of service found within a hotel. In research published in The Service Industries Journal, authors suggest that hospitality should no longer be about courteous behavior from staff. It should also include elements that both surprise and delight customers. In fact, the authors suggest that a successful experience will include plenty of surprises. 
You could surprise your guests with music that changes by location, so the songs they hear in the lobby are different from those heard in the hallways. You could also include hyper-local songs that your customers have not heard before, which could get them tapping along with the beat. 
Switching music by zone could also help you to move past some of the difficulties associated with travel. For example, when people come to your hotel from the airport, they may be tired, hungry, and frazzled. Meeting them in the lobby with music that is soft, soothing, and welcoming could help them feel as though they are in a restful space.
The music you play in the dining room for breakfast, on the other hand, could be the soundtrack that starts a day of meetings or tourist activities. Keeping the tempo here upbeat and fast could help them prepare for the day ahead.
Tips for Having Great Music at Your Hotel
Here are some tips to ensure you play great music that sounds excellent in your hotel:
1. Invest in a high-quality sound system.
Hotels are large spaces with multiple different spaces with different sound requirements. Outfitting your hotel with the right sound system is likely not something you can do yourself. Call in a professional to make sure it's done right.
While a high-quality system will cost more upfront, it's generally worth the investment in the long run. Cheaper systems may break down frequently, costing you more in repairs and headaches.
2. Consider the volume.
If the music is too quiet, it may not compete with the loud chatter and rolling luggage of your customers. If it is too loud, on the other hand, it might cause your guests to shout at their companions. Aim for a balance between much too soft and overly loud.
3. Make adjustments.
You don't necessarily want the same music playing around the clock. Consider the time of day and make playlist adjustments accordingly.
Music that is a bit more upbeat and up-tempo may work best first thing in the morning. The pace and vibe of your music may slow down in the late evening hours.
Likewise, certain areas of your hotel will benefit from specific music choices. You won't want to play the same upbeat lobby music in the spa where guests are looking to relax.
4. Ensure you are doing it right.
You can't just plug in a playlist from your phone and blast it throughout your hotel. You need to ensure you have the rights to legally play the music. 
Assessing Your Legal Rights
Music is not just important to you. It is also important to the people who hold the copyright.
Each time you play music in your hotel, you could owe a small payment to those that hold the copyright. Those organizations, called performing rights organizations (PROs), will demand the money they are owed in person, in letters, and/or in lawsuits. 
Hotels are very vulnerable to confrontations with PROs. As Michelman and Robinson, LLP point out, PROs hire staff to walk through organizations and seek out unauthorized use of music. Since hotel lobbies are typically open to the public, you could face a visit by a PRO rep at almost any time. 
Don't get caught. Make sure you have a legal right to use your music before the first note comes out of the speakers.
At Cloud Cover Music, we have relationships with the major PROs. We can offer you the music that is right for your hotel community, at a price you can afford.
We can give you access to this music with the legal issues covered, so you will be ready if PRO reps come into your hotel and demand proof that you are following the rules. Our music library is vast too, so you don't have to settle for music that isn't right for you.