Americans have more than 31,000 gyms to choose from. How can you stand out from the crowd? The right playlist can help, and Cloud Cover Music can help.
Can You Play Personal Music for Your Patrons?
As a fitness professional, you probably have your own media player filled with ideal workout tunes and playlists. When you run, stretch, or climb, these are the tunes you play to keep you motivated.
Recorded music of the type you have on your personal player is protected by national copyright laws. Those laws might apply to the composition of the piece, the recording of it, or both. Play this for your patrons, and you're breaking the law.
How Can CCM Help?
Cloud Cover Music partners with organizations like ASCAP, BMI, and SOCAN, ensuring that our clients have access to a huge library of recorded music that they can play legally. 
Choose one ideal playlist to share with all of your patrons. You can also create selections for different zones in your gym, such as these:
Pool
Locker rooms
Weight rooms
Access the streaming player from any browser or mobile device, and use our integrations to share your music through your existing Sonos system. Pull reports to ensure all of your locations are playing the music you chose. And survey your stakeholders to ensure they love the tunes you chose.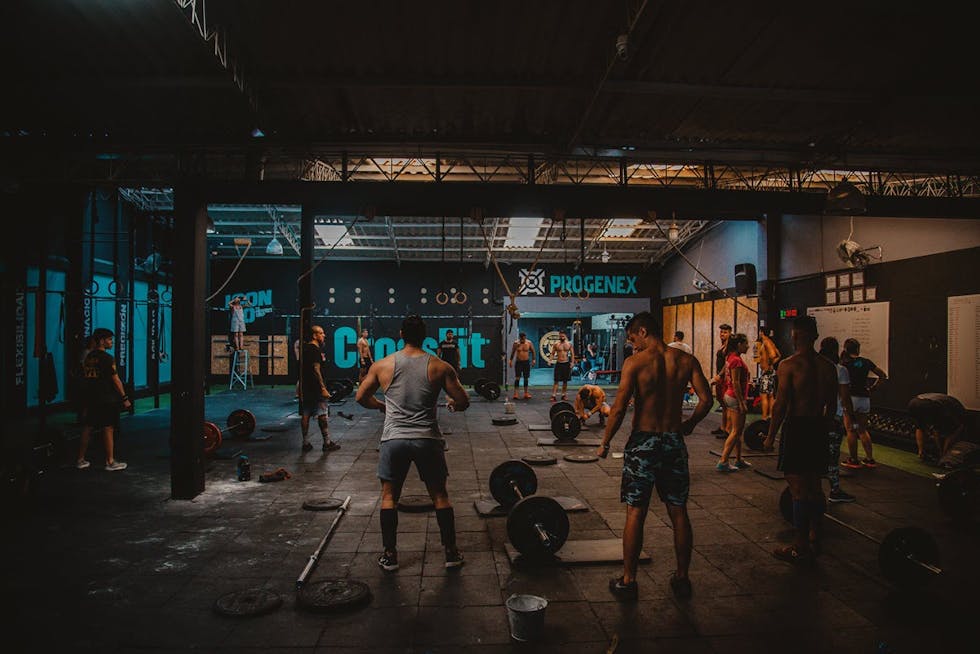 What Should You Play?
Walk into any gym in America, and you will likely hear modern music with a fast pace and a deep reliance on percussion. EDM, pop, and rock dominate the genres played.
Gyms also tend to be loud spaces, and it can be tempting to crank up the music to enhance the workout results.
If you push the volume to the limit, switching musical genres might be wise. Moving from pop to EDM would help give the workout the punch that your gym is looking for without adding hearing loss to the menu of services you offer.
Sample Playlists
Partner with Cloud Cover Music, and you can create custom playlists for your business. Pick and choose the songs you like, and start sharing right away.
These sample playlists can get your creative juices flowing:
Song: Levels – Radio Edit
Artist(s): Avicii
Song: One More Time – Radio Edit
Artist(s): Daft Punk
Song: Angel on My Shoulder
Artist(s): Kaskade, Tamra Keenan
Song: Icarus
Artist(s): Madeon
Song: Control
Artist(s): Oliver
Song: Illmerica
Artist(s): Wolfgang Gartner
Song: Next Order
Artist(s): Dog Blood
Song: SeeSaw – Club Version
Artist(s): Jamie xx, Four Tet, Romy
Song: Language
Artist(s): Porter Robinson
Song: Take Me Home (feat. Bebe Rexha)
Artist(s): Cash Cash, Bebe Rexha
Song: Never Come Back
Artist(s): Caribou
Song: (I Can't Get No) Satisfaction – Mono Version
Artist(s): The Rolling Stones
Song: All Day and All of the Night
Artist(s): The Kinks
Song: Another One Bites The Dust – Remastered 2011
Artist(s): Queen
Song: Any Way You Want It
Artist(s): Journey
Song: Are You Gonna Go My Way
Artist(s): Lenny Kravitz
Song: Barracuda
Artist(s): Heart
Song: Born to Run
Artist(s): Bruce Springsteen
Song: Call Me
Artist(s): Blondie
Song: Danger Zone – From "Top Gun" Original Soundtrack
Artist(s): Kenny Loggins
Song: Hungry Like the Wolf – 2009 Remaster
Artist(s): Duran Duran
Song: King
Artist(s): Years & Years
Song: Born To Be Yours
Artist(s): Kygo, Imagine Dragons
Song: Dreams
Artist(s): Alex Ross, Dakota, T-Pain
Song: Feels Like Home
Artist(s): Sigala, Fuse ODG, Sean Paul, Kent Jones
Song: Go With It (feat. Chromeo)
Artist(s): Oliver, Chromeo
Song: All This Time
Artist(s): Deorro
Song: Better With You – Kastra & twoDB Remix
Artist(s): 3LAU, Justin Caruso, Iselin, twoDB, Kastra
Song: Broken & Beautiful (from the movie UGLYDOLLS)
Artist(s): Kelly Clarkson
Song: Forever – VAVO Remix
Artist(s): Disco Fries, Maline, VAVO
Song: Million Things
Artist(s): GATTÜSO, Disco Killerz
Let's Get Started
At Cloud Cover Music, we have the music that is just right for the common areas of your fitness center. We can help you understand which music might be right for your audience, and we can help you get set up with our app, so you can connect to your speakers quickly and efficiently.
We have contracts with all copyright holders, so you can play the music you want while complying with the law. We offer one reasonable fee and easy agreements, so you won't have to worry. Cloud Cover Music, however, cannot be used for group fitness classes.
We would love to tell you more. Please contact us to find out more about our options for fitness centers just like yours.