Important Ways Restaurant Music is Good for Business at QSRs
When people hear that a chain of quick-serve restaurants (QSRs) is working with a business music service provider, many wonder why. After all, aren't in-store music services for retail shops and corporate office settings? More and more, the answer to that question is a resounding NO.
The reason is that those who own multi-location QSRs (and single-location traditional restaurants, for that matter) are discovering the benefits of having carefully curated and professionally executed restaurant music.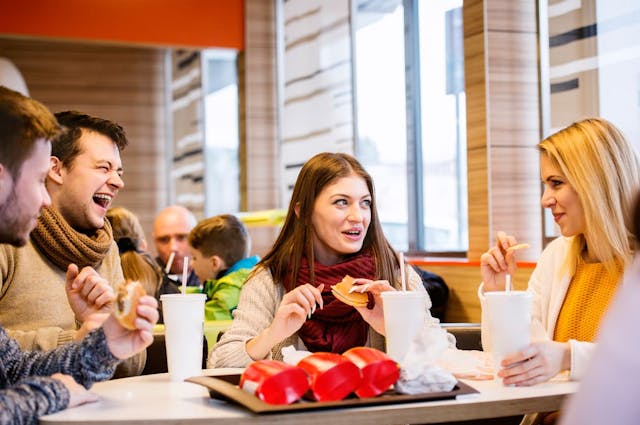 Why Should I Use Music in My QSR?
Here are eight of the most compelling reasons in-store music is good for business at quick service restaurants worldwide:
1. Music Helps Build Brands
Along with interior design and décor, the music played inside a QSR is a key part of the "A/V" portion of the restaurant brand experience. What customers see and hear when they enter a QSR location is the brand's vision. Without the music to help tell the story, that experience would be much more two-dimensional and a great deal less powerful.
2. Music Removes a Customer's Fear of the Unknown
In the quick serve restaurant business, familiarity is NOT a negative thing. For example, the owners of large chains want customers who have never been to Miami, Florida, in their lives to step into one of their QSR locations and feel immediately comfortable.
One of the most pronounced methods of accomplishing this is through music, specifically by using a uniform set of music in ALL locations worldwide to create a familiar environment for a loyal customer to enjoy.
3. When Done Professionally, Restaurant Music Creates Happier Employees
Say you told your employee of the month that she could bring a thumb drive containing her "favorite album ever" to work and play it throughout the workday. Chances are, it would take less than a day for that beloved hour of music to become public enemy #1 with your prized employee and her coworkers.
But if each day promised a new and exciting mix of the best music, your in-store music program would be something that employees would look forward to hearing every day, making them happier, more productive individuals while on the job.
4. Music Played in Restaurants Can Mask Unwanted Sounds
If you took your average city-located, busy QSR and removed the in-store music, you'd hear all kinds of sounds you had never heard before and may never want to hear again.
No one wants to hear the sounds of people chewing while they often eat quickly at a QSR. The same goes for sounds from the bathroom, the kitchen area, and even the conversation of fellow diners.
5. Music Creates a More Immersive Brand Experience
If a 150-store Mexican-themed QSR decorates its locations with everything from sombreros and ponchos to festive trinkets from the Day of the Dead, you could argue that they've done a pretty good job creating authentic Mexican décor.
But you can add traditional music from that country's many leading artists and play these songs throughout the day in the restaurant. Now, you have created a truly immersive brand experience that will have a very positive impact on customers.
6. Music Soothes the Savage Customer
Imagine your QSR chain's busiest location during the lunch rush. As hard as your valued employees work to avoid it, there's a line building at checkout, and it doesn't look like it's getting shorter anytime soon. This may cause some of your valued customers to grow restless or frustrated.
But if the right music is playing on the QSR's sound system, be it a new musical discovery or an old favorite from days gone by, that wait may be easier to take. As a result, music saves the day again by distracting customers from the common frustrations that all restaurants experience at one time or another.
7. Music Can Be Segmented to Appeal to Different Customers at Different Times
A QSR may be full of busy office workers at lunchtime, but later in the day, it becomes a destination for older theatergoers looking to take in some food before the touring company of their favorite Broadway show raises the curtain in the evening.
Dayparting is the process of selecting genres of music to play based on the demographic most likely to be in a restaurant at a certain time of day. It's a custom music solution that helps both the young office worker and the older theatergoer hear music that speaks to them when dining at the QSR.
8. Music Creates a More Immersive Brand Environment (Provided QSRs Use the Right Equipment)
There's little point in investing time and money into the music in your restaurant if you're going to play it all back on an old, out-of-date sound system.
Smart QSR owners and managers search for deals that allow them to purchase and install high-quality speakers and media players in all their locations. The music mixes designed to help grow their business can be heard by everyone with top-notch clarity.
The same is true for media streaming devices, where cutting costs or going with out-of-date equipment can potentially lead to interruptions in data transmission, creating awkward moments of "dead air" inside the restaurant.
How to Choose the Right Music for your QSR Business
There are more than 660,000 restaurants in the United States, and each of them sounds and feels a little different. How can you make yours stand out from the competition? Creating the right mix of music might help.
Find the right music with these steps:
Consider your menu. Does your food fit nicely into a recognizable genre? Do you serve Southern country food? Or do you specialize in Thai food? Look for ways to pair your soundtrack with your food choices.
Understand your listeners. What's the average age of your customer? If you serve plenty of kids, you'll need different music than if you serve the 65+ set.
Determine your goals. If you need to turn over tables fast, music with a quicker pace is better.
Once your playlist is complete and launched, consider a customer poll. It's true that customers get poll requests every day. But a short, timely set of questions could give you good data to understand if your soundtrack is right.
How to Play Legal Music in Your QSR Business
Just as your talented staff works hard on meals in your kitchen, artists create the songs you love (and want to play in your restaurant). Those tunes are protected by copyright laws, and you could get sued if you don't respect them.
One Alabama restaurant owner learned this the hard way when he was sued for playing just nine popular songs in his establishment. The copyright holders hounded him for months before filing a lawsuit.
Companies like BMI hold the copyright for their artists, and you could work with them directly, but doing so could leave you legally exposed. If you accidentally play a song with a non-BMI artist, you could still get sued.
Companies like Cloud Cover Music allow you to pull together playlists packed with popular music your clients will recognize and love. The company handles all of the copyright issues, so you can focus on keeping your clients happy.
To get the best in-store music for your QSR, sign up for a 14-Day FREE trial of the same services that have already helped restaurants like yours enjoy the benefits of in-store music, all at a price point that won't break the bank.
References
Number of Restaurants in the United States from 2011 to 2018. (August 2018). Statista.
How to Get the Most Out of Customer Polls and Surveys. (December 2019). Forbes.
Alabama Restaurant Sued for Copyright Infringement of 9 Classic Songs. (July 2022). WFTV.