For many Americans, wireless service is a lifeline. The providers we choose help us connect our computers to our workplaces, so we can work in the privacy of our homes.
They help us connect our cellphones to social media sites, so we can stay in touch with friends and family. And wireless helps us to make calls, so we can reach out to authorities when we need help.
As the owner of a wireless or phone shop, you provide a vital service. Chances are, however, that you are not the only company in town that offers that service. Music can help you to define your brand, retain your customers, and see your success rates rise. These are three questions to ask yourself as you think about the music and playlists you should play.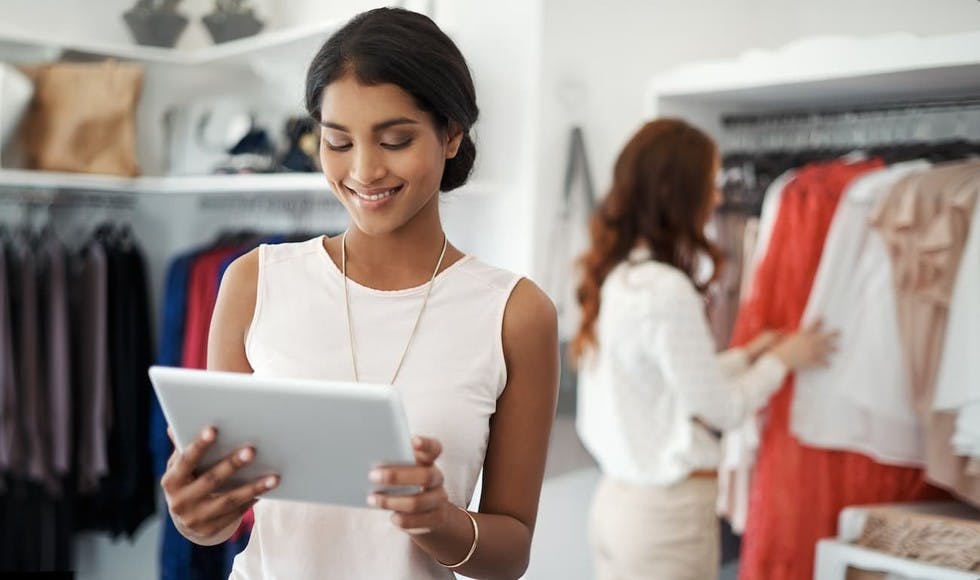 What Types of Products Do You Sell?
According to research from Google, nearly one-third of wireless phone shoppers aren't sure which provider they should choose. When these customers start their purchase journey, they just don't know which company will serve them best. Google says about half of shoppers are searching for a better network. That other half? You might be able to entice them through the products you offer.
Imagine that your shelves are filled with wireless products that are candy-colored, technologically savvy, and intensely modern. These products might be influenced by Japanese design standards, and they are made for those who want to get the most out of a wireless experience.
---
Matching those products to a soundtrack that is also modern, techno-based, and global could be a wise move. When customers walk into your store, they will have a sense of the products you sell.
---
On the other hand, imagine that you sell products aimed at those who don't want to spend a great deal of money. According to Telecompetitor, many shops now offer packages that allow consumers to bring their own devices or phones and simply switch data plans. If you run a business like this, you may have few products on your shelves. Those you do carry might be older or have fewer features.
A playlist for a shop like this might feature classic rock or country, as these genres emphasize rebellion, value, and hard work. Your customers might relate to these songs, and they might look favorably on your products with these tunes playing in the background.
What Audience Are You Trying to Reach?
Just as you will need to match your songs to your products, you will also need to ensure that your audience appreciates the music you play. You can use age research to help you understand who is most likely to want your phones, products, and services.
According to the Pew Research Center, cellphone use can vary dramatically by age. This is the percentage of people within these age groups that own a cellphone, but not a smartphone:
Ages 18–29: 6 percent
Ages 30­–49: 9 percent
Ages 50–64: 21 percent
Ages 65 and up: 40 percent
If you focus on selling products with few bells and whistles, this research suggests that your target market is older than 65. Playing music that was popular in the 1960s and 1970s might be familiar to this age group, and the tunes could get their toes tapping as they shop.
By contrast, if you only sell smartphones, your audience might trend younger. Your playlist might emphasize younger, modern, pop artists instead.
It is important to include variety within your playlists, just in case you have people from other age groups coming to visit you. As Smart Company points out, people can be offended by music that does not seem to apply to them in any way.
---
Adding a little variety could help to address that issue. You could sprinkle in tunes from a few different time periods just to keep things equal and interesting.
---
What Do Your Competitors Play?
Standing out from the crowd means differentiating your brand. Understanding the music that your competitors play can help you find a spot that is just right for you. For example, if your competition has a playlist that emphasizes singer-songwriters like John Mayer and Adele, you could make your brand stand out by ensuring that you play a great deal of funk and R&B. If your competitors play classic jazz, you could make the switch to smooth jazz instead to give your shop a more modern and relaxing feel.
These shifts can be subtle, but they can help your store to remain memorable to consumers on the hunt for new wireless solutions. When customers walk into your shop, they will have a different audible experience than they do with your competitors. That might be just what they need to choose you instead of the competition next time.
Playlists
Song: Ain't No Stoppin' Us Now
Artist(s): McFadden & Whitehead
Song: It's A Shame
Artist(s): The Spinners
Song: If You Really Love Me
Artist(s): Stevie Wonder
Song: I Heard It Through The Grapevine
Artist(s): Marvin Gaye
Song: Flashlight
Artist(s): Parliament
Song: Get Down On It
Artist(s): Kool & The Gang
Song: Fragile
Artist(s): Isaac Hayes
Song: Celebration
Artist(s): Kool & The Gang
Song: Boogie Wonderland
Artist(s): Earth, Wind & Fire, The Emotions
Song: Best of My Love
Artist(s): The Emotions
Song: Down on My Window
Artist(s): Ray Fulcher
Song: I Dream in Southern
Artist(s): Kaleb Lee, Kelly Clarkson
Song: Life Ain't Fair
Artist(s): Canaan Smith
Song: That's Why I Love Dirt Roads
Artist(s): Granger Smith
Song: Alabama
Artist(s): Cross Canadian Ragweed
Song: Brown Sugar - Remastered
Artist(s): The Rolling Stones
Song: Carry On Wayward Son
Artist(s): Kansas
Song: Communication Breakdown - 2014 Remaster
Artist(s): Led Zeppelin
Song: Dancing In the Dark
Artist(s): Bruce Springsteen
Song: Deuce
Artist(s): KISS
Song: Faded
Artist(s): J Lisk
Song: I Feel So Bad
Artist(s): Kungs, Ephemerals
Song: Prayer in C
Artist(s): Lilly Wood and The Prick
Song: Sun Goes Down
Artist(s): Bruno Martini, Isadora
Song: 85% - GOLDHOUSE Remix
Artist(s): Loote, gnash, GOLDHOUSE
Song: All My Love (feat. Conor Maynard)
Artist(s): Cash Cash, Conor Maynard
Song: Don't Care
Artist(s): Galantis
Song: Fall for You
Artist(s): Just Kiddin
Song: Fast Car
Artist(s): Jonas Blue, Dakota
Song: Get Low (with Liam Payne)
Artist(s): Zedd, Liam Payne
The music you play within your wireless store is protected by American copyright law. In order to play that music, you must compensate the people who hold the copyright for the recording, the songwriting, or both. There are many companies that administer copyright, and in the past, full protection has meant making a relationship with all of them.
We offer a better way. At Cloud Cover Music, we can provide you with robust protection for the songs you want to play at one low, easy-to-understand price. The songs in our library are the same songs you might hear on the radio, but playing them comes with no risk of a fine or litigation. Our contracts remove the hassle and worry of compliance.
We would like to show you how our program works and what it can do. Contact us for a demonstration and a free trial.