Cloud Cover Music Provides Emergency Messaging to Storm Impacted Businesses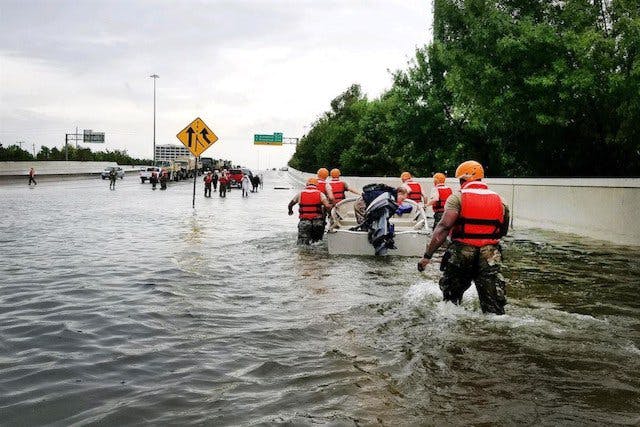 The recent storms that devastated our fellow citizens in Florida, Texas and other parts of the country brought the full force of nature down to individuals and businesses alike. In the case of the latter, there was little time to properly organize a plan to make sure customers and employees were receiving important messages about the storms' path of devastation – and that's where Cloud Cover Music was there to help.
When Hurricane Harvey hit the state of Texas
Cloud Cover Music account managers were contacted by several businesses in the area who were seeking help with quickly developing in-store messaging that provided vital information about the storm and how to best prepare for its landing. Cloud Cover helped by providing professional messaging at no additional charge to the Texas-based businesses, whether they had the appropriate pricing plan (that included messaging) or not.
As often happens when our country is in crisis, everyone banded together to help and several businesses accepted Cloud Cover's offer, including long-time client the Star Stop stores located in Houston, Texas.
Head of Marketing of those Star Stop locations, Shahrukh Panjwani, had this to say about Cloud Cover Music's efforts during that challenging time:
"We had an urgent need to communicate to people the dangers associated with all the water that was suddenly on the roads. Overhead messaging at all our convenience stores was a very fast and effective medium to remind people to not take risks and to fill up on fuel and provisions for when the power goes out. Cloud Cover Music helped us urgently get these messages made and put in rotation within a couple of hours."
Then Tropical Storm Irene bore down on Florida
Cloud Cover Music management decided to take things a step further, proactively reaching out to all of the music provider's clients in the soon-to-be-impacted areas in Florida – offering the emergency messaging services free of charge, upgrading their service and helping them create the proper announcements from the company's home studio in Los Angeles, California.
Joshua Jordan from the Orlando World Center Marriott concurred:
"The emergency messages we played via Cloud Cover Music's service were very useful and implemented promptly. We would highly recommend using their messaging platform."
It was a difficult time for many people in both areas, and remains so for many to this day. Cloud Cover Music was proud to help assist in a small but significant way during a period of vulnerability and uncertainty for businesses and residents of the Southern United States.
---
Looking to implement emergency messaging or music into your business space?
Contact Cloud Cover Music today.